Istanbul has a very comprehensive and efficient public transports system comprising of:
1. Scheduled ferry services along both shores of the Bosphorus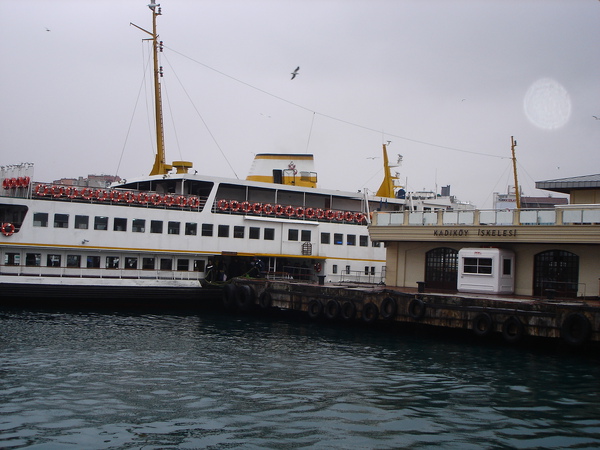 A scheduled IDO (Istanbul Deniz Otobusleri A.S./ Istanbul Sea Bus Corportation) ferry service that runs between Kadikoy on the Asian side to Karakoy on the Golden Horn.
For furthermore information, please refer to IDO's official website:

http://www.ido.com.tr/
2. Extensive bus systems with air-conditioned vehicles
Istanbul's buses are operated by government-owned IETT (Istanbul Elektrik Tramvay ve Tünel), as well as the historic tramway of Takim - Beyoglu and the two tunnel funicular raiwaly lines.

For further information (time-table, fares etc.), please see:
http://www.iett.gov.tr/en/index.php
3. Historic Taksim - Beyoglu Tramway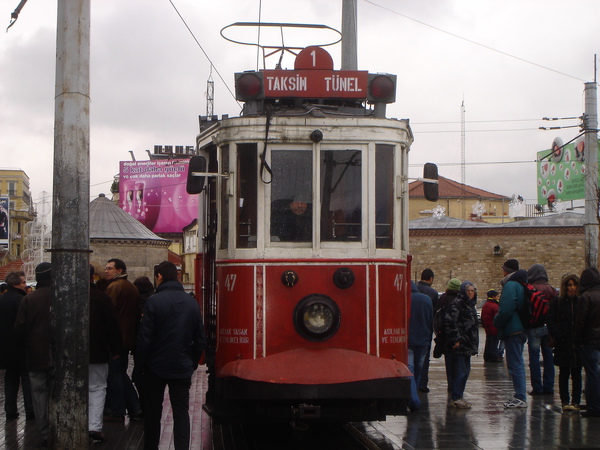 In Turkish, they called this vintage tram that runs along the whole length of the Istiklak Caddesi (Independence Avenue) the 'Nostalgic Tram'. Although the tram itself is indeed the original rollingstock dated from the early 20th century, the tracks are relaid in 1992. (Original tracks were laid over and replaced with tarmacs in 1961 when all tram services on the European side of Istanbul were discontinued).
Above is the vintage tram at its point of departure near Taksim Square, in front of the Husein Aga Camii (Husein Aga Mosque).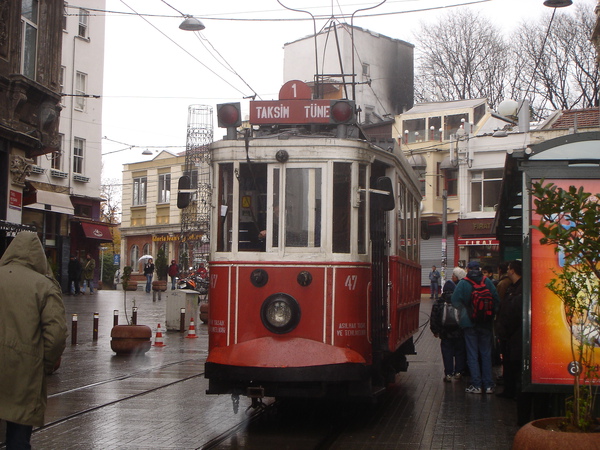 Above is the historic tram at its final stop at Beyoglu Tunel station, located right outside the entrance to the Tunel funicular station to/from Karakoy. Nowadays, this vintage tramway has become a symbol of Istanbul, many tourists will wait patiently for half an hour at the tram stop, in order to experience the ride on this historic tramway. Akbil is valid on this vintage tram as well.

4. Beyoglu Tunel - Karakoy Funicular Line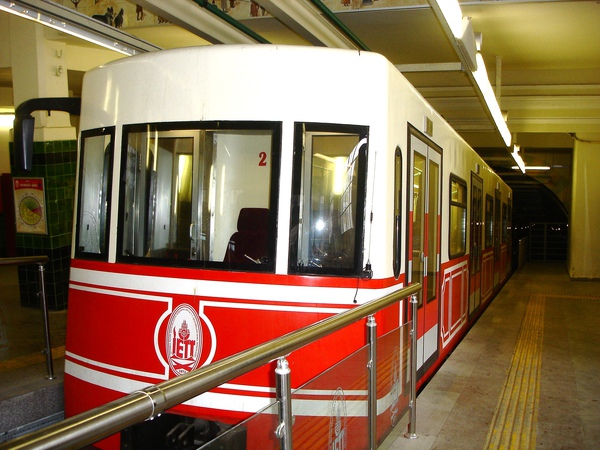 The Karakoy - Beyoglu Tunel funicular railway, the older of the two funicular lines in Istanbul. This line saves me lots of energy and time when going uphills from Karakoy on the shore of the Golden Horn to Taksim.
5. Kabatas - Taksim Funicular Line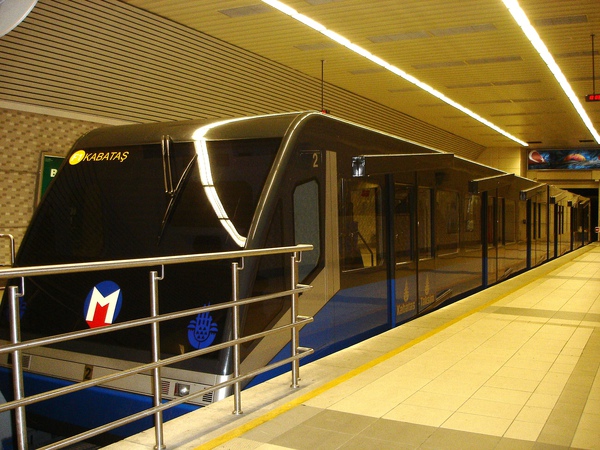 This is a modern funicular line completed in 2006 that operates between the seaside tram stop of Kabatas and Taksim Square. It takes about 110 seconds to travel between Kabatas and Taksim.
6. Metro Lines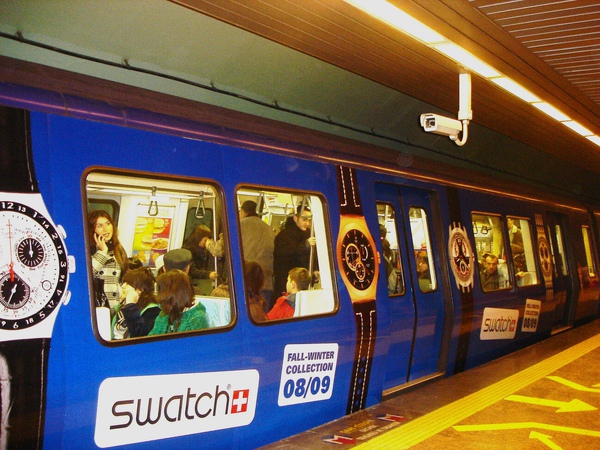 Above: Istanbul's metro carriage (Line M2, taken at Levent Station)

There are two modern metro lines in Istanbul: M1 Airport (Havalimani) - Aksaray; and M2 Taksim - 4. Levent Metro Station.
M1 also stops en route at Istanbul Central Bus Station (Otogar), in the district of Esenler.
M2 is extremely useful for those who go to Istanbul for shopping: for those heading to Kanyon Shopping Centre and Metro City Shopping Centre, take M2 and get off at Levent Station (one stop before 4. Levent Metro station).
For those going to the exclusive shopping districts of Sisli and Gayrettepe, get off at the similarly-named metro station and follow the signs.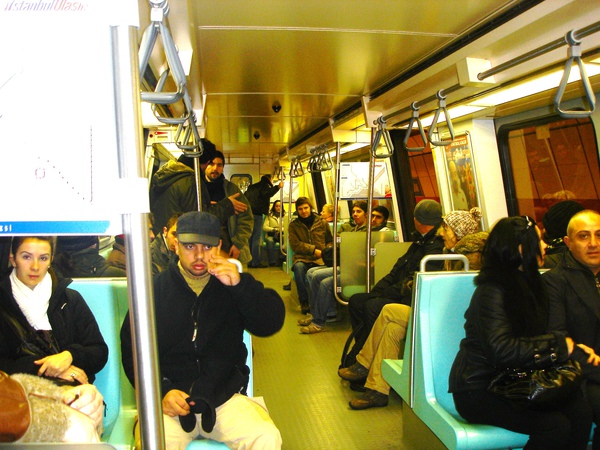 The interior of an Istanbul metro carriage. It could get extremely crowded, especially on weekends and at rush hours. Better get yourself a seat as soon as you see one, otherwise you would have to stand in the pack for the rest of your trip.

For a complete map of Istanbul's metro lines, tram lines, funicular railways and cable cars, please see:
http://www.istanbul-ulasim.com.tr/harita/RayliSistemler.jpg
For an overview of Istanbul's public transportation system, please see:
http://www.istanbul-ulasim.com.tr/en/default.asp
'Akbil' is a little key-ring like credit storage device that allows you to load credits at self-service machines located at all metro stations and at selected sea-bus stops served by IDO.
Whenever you enter the metro station or board a bus, simply place the Akbil on a metal sensor and the correct fees will be deducted from your Akbil account.
The non-refundable deposit for an Akbil credit storage device is 6 TL. You can load as much credit as you like onto your Akbil. Usually I top up 5 - 10 TL at a time at the self-service machine.
Copyrights 2009. All Rights Reserved. All photos and text by YC Cheng.