Of all the cities I have lived in so far, Zurich actually ranks up there as one of my favourite cities of all time. I like living in Zurich, because it has the advantages of several other major cities:
a) Zurich is a very cosmopolitan place similar to London, with a highly diverse population profile, but is much more resident-friendly than London and certainly offers much better natural sceneries right on its doorsteps. And houses in Zurich are much better built and insulated than those in London.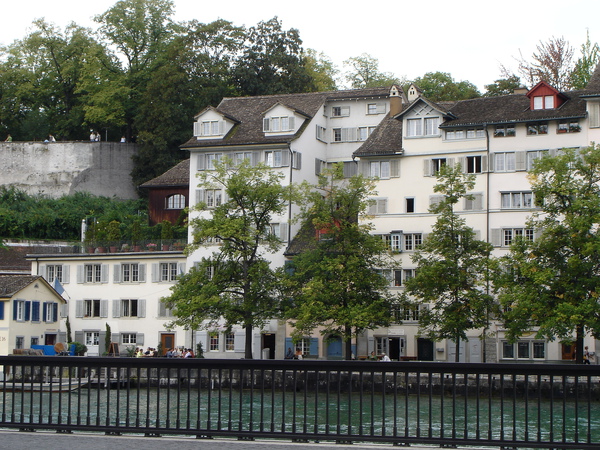 The Limmat flows through the centre of Zurich into Lake Zurich. Along the Limmat there are exclusive boutiques, cafes, restaurants and shops. Elegant life style in Zurich comes at a hefty price tag, however: eating out is extremely expensive in Zurich. Be prepared to cook at home yourself most of the time unless someone pays for all your expenses.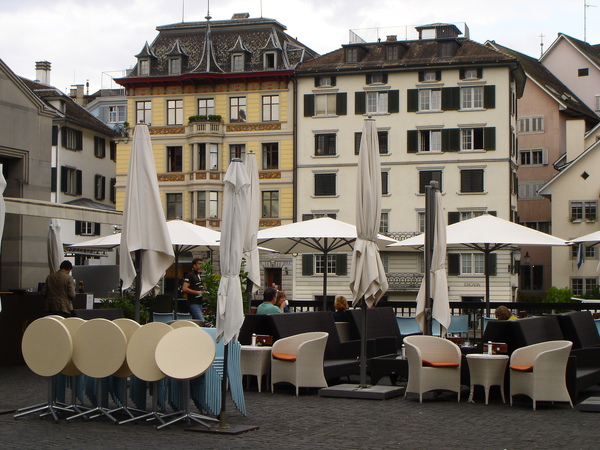 Stylish cafe on the bank of the Limmat with a crisp, modern decor and good view of Zurich's Old Town.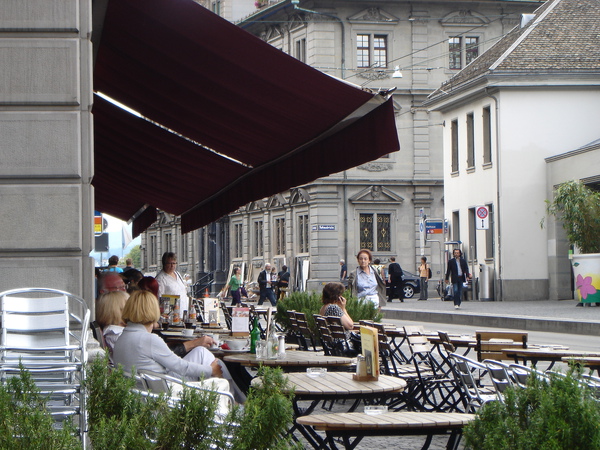 Viennese style outdoor cafes at the bank of Limmat. On a sunny spring day, locals and tourists alike sip their coffees and enjoy some fresh air.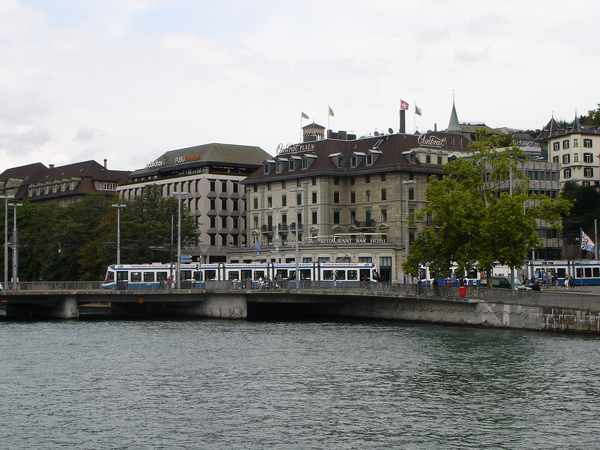 b) Zurich, like Cape Town, has an abundance of natural beauty all over the city, but the public transportation systema is much more efficient in Zurich than in Cape Town (where public transport system is almost non-existent). Trams, buses, trains and boats all form a comprehensive transportation network for its 354000 inhabitants. And Zurich is a much much safer place to live, both as a resident and as tourist.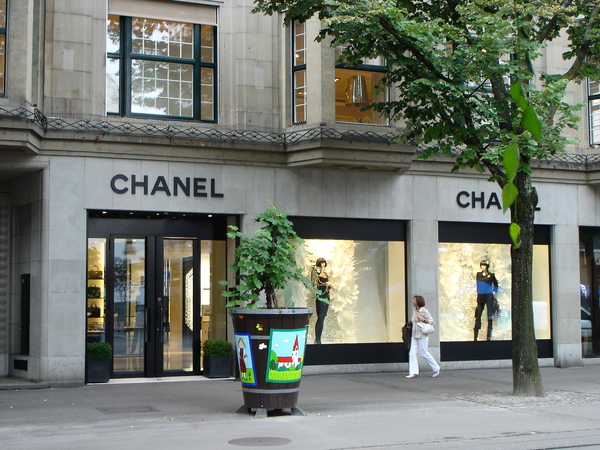 Expensive boutiques on Bahnhoftstrasse, good place to squander your cash and push your credit cards to the limit. On Bahnhofstrasse and the small side streets, you will find some of the world's most secretive private banks to stash away your cash, as well as prestigeous shops, jewellers and fashionable boutiques selling latest haute couture collections.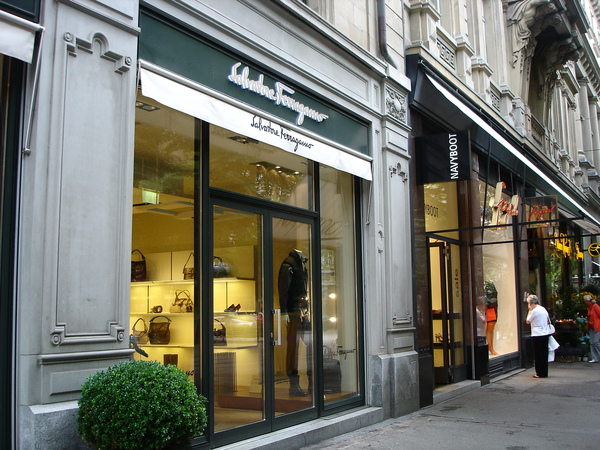 c) Like Paris, London and Milan, Zurich has lots of expensive boutiques and fashionable shops to spend your hardly earned cash, and they do have a better sense of fashion compared to the Germans. But, unlike those cities, trendy shops in Zurich are much less likely to be impolite to foreign customers; and Swiss sales assistants all speak very good English. And the streets are clean, tidy and you don't step on dog poos.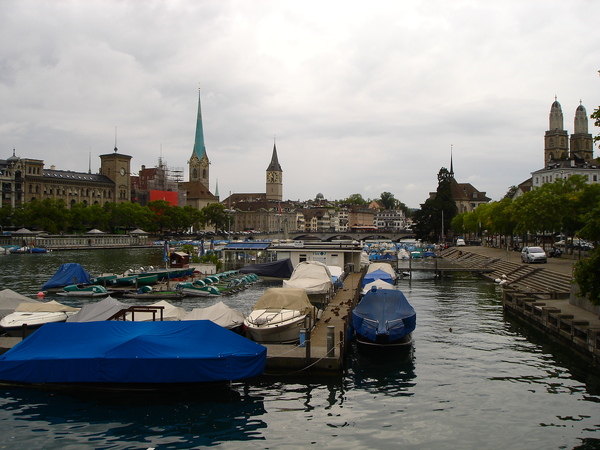 Small boats stationed along the piers of the Limmat.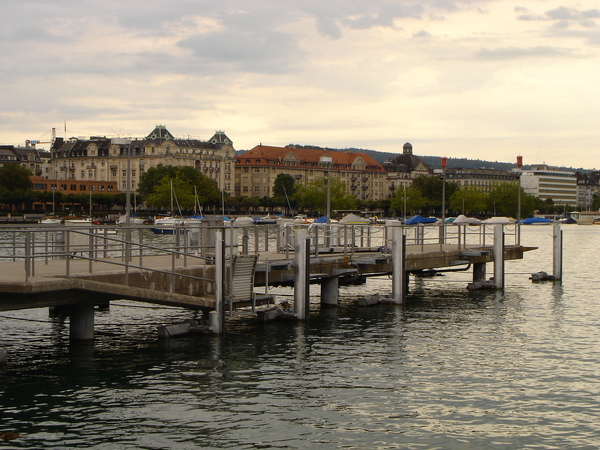 Lake Zurich and the pier near the departure point from where schedule boat services to villages along the shores of Lake Zurich depart.

d) For those who are interested in arts and music, Zurich has a lot of art galleries, museums, and interesting architectures. Even the foods are not too bad. The only downside is, most restaurants in Zurich are really expensive and it takes a fortune to eat out. It is bad for the tourists, but if you live in Zurich, there are plenty of good supermarkets like Migros and CooP that offer good quality Swiss food produces at reasonable prices. Personally I prefer Swiss supermarkets to British supermarkets.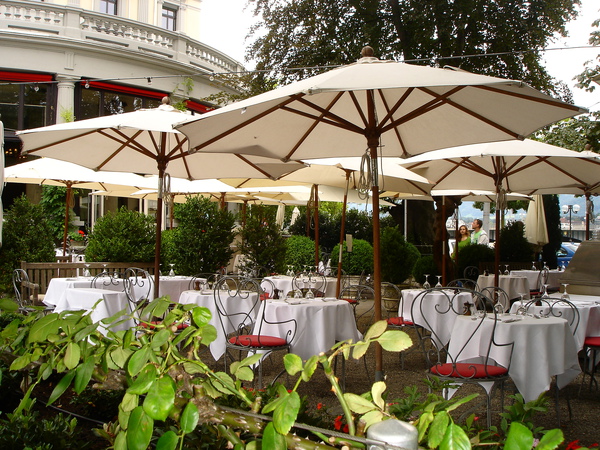 Posh open-air garden restaurants with a bill that take a huge chunk out of your monthly salary.
e) Although it is one of the richest city in the world, its inhabitants are still quite friendly and cordial. And it is small enough to explore on foot, unlike Paris or London. Since it is still a little bit cheaper to live in Zurich than in London or Paris, I guess it is tops the rankings of my preference table....
Copyrights 2009. All Rights Reserved.