On day 3, it was time to visit different villages on Gozo by bus. The funny thing about going around by bus on Gozo is, you never know if it is worthwhile spending 40 minutes at Victoria's bus station waiting for the 5 minute ride to your destination. Since distance between each settlements on the island is short, you can probably walk to the village you want to go during the time you spent waiting at the bus station.
As I had some time to spare on my hands, instead of walking up the 3km country lane towards the seaside hamlet of Xlendi, I sat down at a small cafe right across the road from the bus station and spent the next 40 minutes drinking Lavazza latte macchiato.
As expected, the bus ride to Xlendi took less than 10 minutes....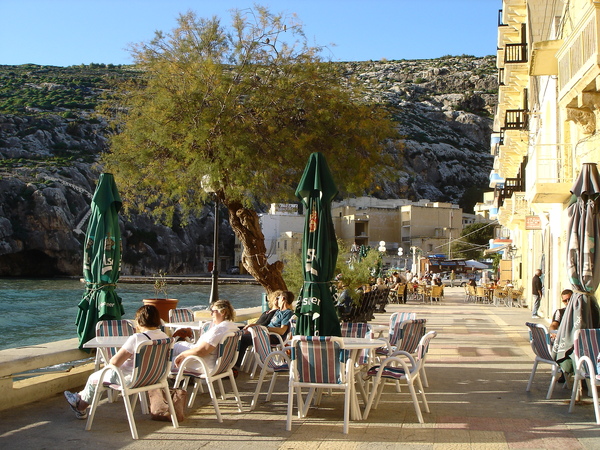 Xlendi is a cute little seaside place with rocky cliffs and a few decent restaurants. There is no sandy beach nearby but you can still swim in the sea using the rock-path and stairs leading down into the water. Somehow it was very windy on that day; waves splashed up on shore and drench the pavements, the current was too strong for swimming.
So I chose to have my cup of tea and cake at a nice hotel on the waterfront instead.