Turin is a beautiful city. Situated against the backdrop of snow-capped Italian Alps, the city is a wonderful mixture of culture, elegance and efficiency. The city has several grand squares and is very well known for its cafes. Lavazzo, one of Italy's foremost coffee brands, comes from Turin.
Many people know about Turin thanks to the film classic 'The Italian Job' (the Original Version, not the re-make). Football fans will know this is the seat of one of Serie A's giants, Juventus - known as 'the Old Lady'. Others will associate Turin with Fiat the car-maker. But my interest in this northern Italian city was ignited when I started drinking coffee.
A few years ago, while I was on holiday in Trieste, another Italian city famous for excellent coffee (illy) and coffee houses, I came across an article in the Travel Section of the Financial Times on coffee houses in Turin. In terms of flaire, Turin is very well-organised and disciplined compared to other Italian cities. The laid-out of the city centre reminds me of Lyon and Zurich, perhaps because both Zurich and Turin are surrounded by snow-capped mountains. The air in Turin is fresh, without any trace of pollution or dust so common in other Italian cities, the traffics are orderly and efficient public transport networks connect the industrial and cultural capital of Piedmont with nearby towns and countryside. And there were almost no tourists in sight - in stark contrast to Milan, Florence or Venice. Most visitors to Turin are business travellers, or they come to Turin for the winter sports.
The hotel I stayed at is about 100m from Turin's main train station. It is a small hotel but very cosy, and my room has pretty painted fresco ceilings. The breakfast is so-so, not great but it's adequate. The rooms are comfortable and the bed is great to sleep on.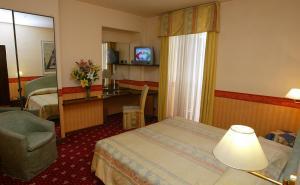 The room -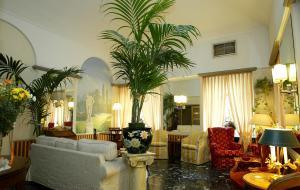 Sitting area near the reception desk where guests can have a chat and relax