Every island of the Azores has a name: Faial is known as the 'Blue Island' thanks to the overwhelming presence of hydrangea all over the island. Due to the relative absence of efficient public transport systems, it is advisable that you rent a car if you want to visit the various parts of the island in depth. It takes less than 3 hours to drive around the entire island.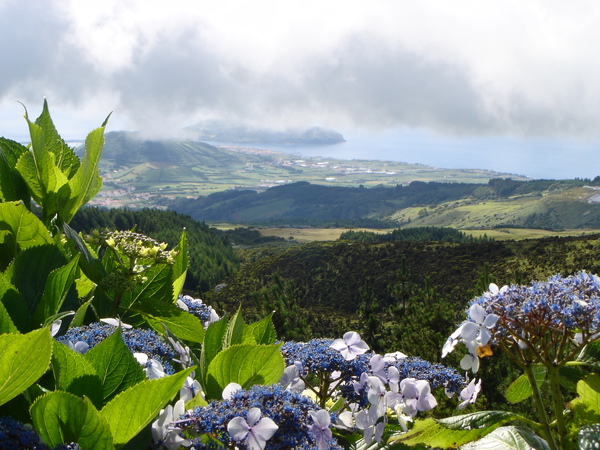 Rental car companies congregate around two streets in the centre of Horta: the Rua Vasco da Gama, and Rua Conselheiro Medeiros. It is advisable to enquire around for prices and availability, as prices and the class of cars available at short notice differ hugely between different car rental companies.
We rented our car from Auto Turistica Faialense Rent-a-Car. They are very friendly and offer efficient service. The only thing you need to watch out for if you want to rent a car in Horta is, try to make a reservation as soon as possible because in the summer months, often you will need to wait 3-4 days before a car of your choice is available. Otherwise you might have to pay much more for a bigger car if you want something immediately. In addition, it seems most of the rental car companies in Horta do not offer rental terms with unlimited mileage. Instead you are required to pay for a fixed minimum daily charge, plus additional kilometer charges.

Driving around Faial is a joy because of the beautiful, lush green scenery and the abundance of nature everywhere you go. Roads are in good condition, although sign posts are somewhat inadequate. Make sure you have a copy of latest road map with you while venturing inland on Faial.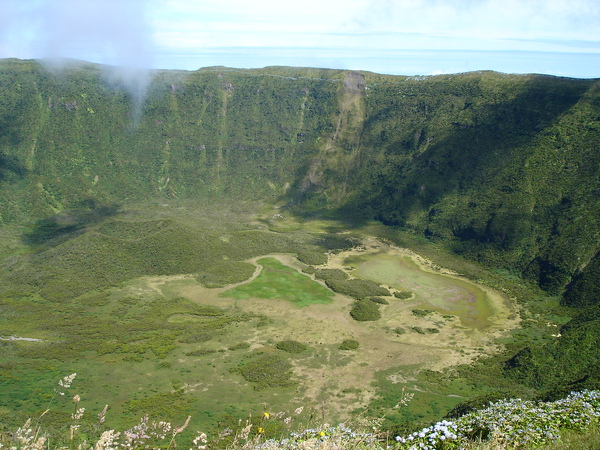 The Caldera in the middle of the island is a beautiful crater landscape, 2km wide and almost 0.5km deep. The crater used to be a huge crater lake, but it was said that the water in the crater lake disappeared overnight during the undersea volcanic eruption of 1957/58. A small path for hiking surrounds the entire perimeter of the crater; the hike will take about 2.5 hours.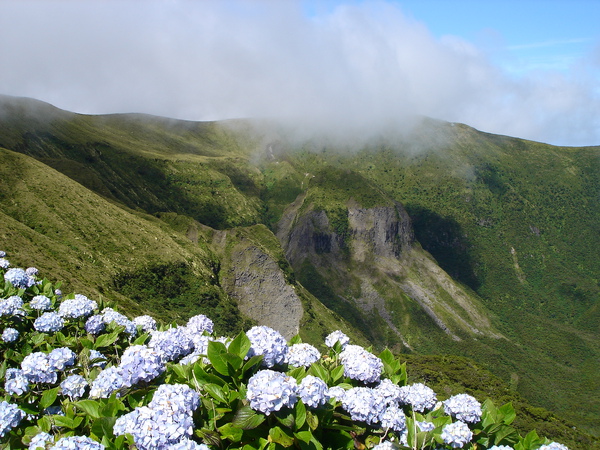 Hydrangea, the symbol of Faial, blooms in the ever-green landscape of Caldera.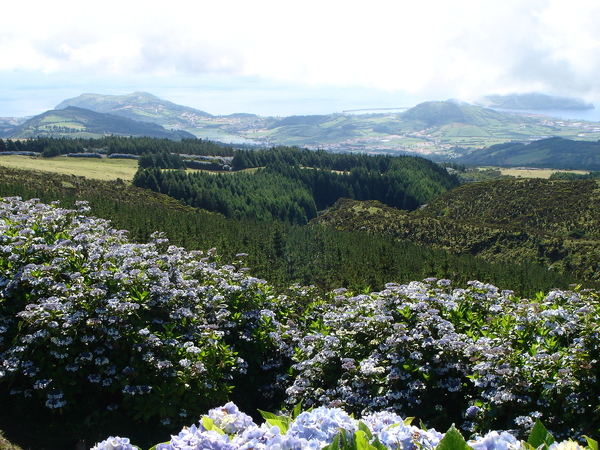 You see hydrangea everywhere: they bloom like benigh tumors all over the entire island.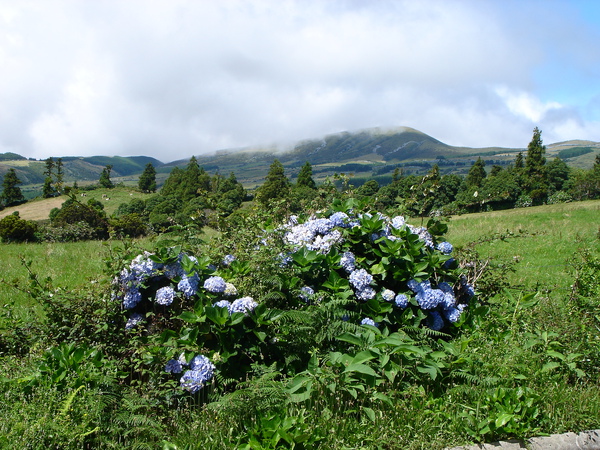 Faial (and the rest of the Azores, for that account) is well known for its dairy farming and the excellent qualities of its dairy products. Faial produces some of the best cheeses in Portugal, whilst the Azores supply about 1/3 of all of Portugal's dairy products. The weird thing is, although the Azores are such important producers of milk, butter, cheese, yogurts etc., one cannot find any fresh milk in any shops or supermarkets on Faial. All they have is the UHT-milk in Tetra-pack cartons. At first we were quite puzzled by this, until some locals told us that the dairy farmers are more inclined to sell all their fresh milk yields to the local dairy farmers' cooperative to be made into processed dairy products, because they get much better price for that. The reason why cooperatives are offering higher prices for fresh milk from the Azores is, thanks to the absence of BSE or Mad-cow's disease, dairy products from the Azores can be exported to anywhere in the world and hence highly valuable.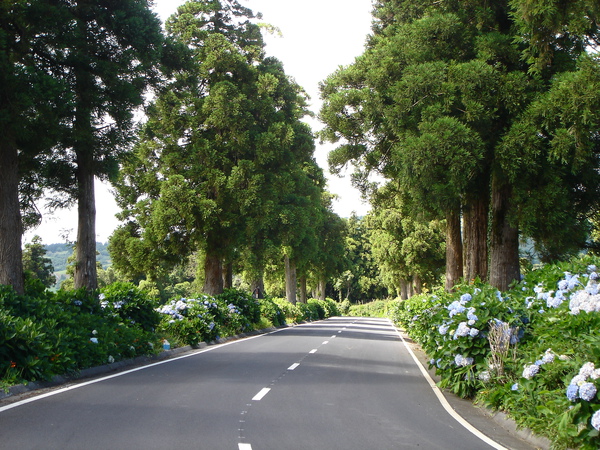 A typical country lane dotted with trees and hydrangea shrubs in the middle of Faial, on the way to the Caldera.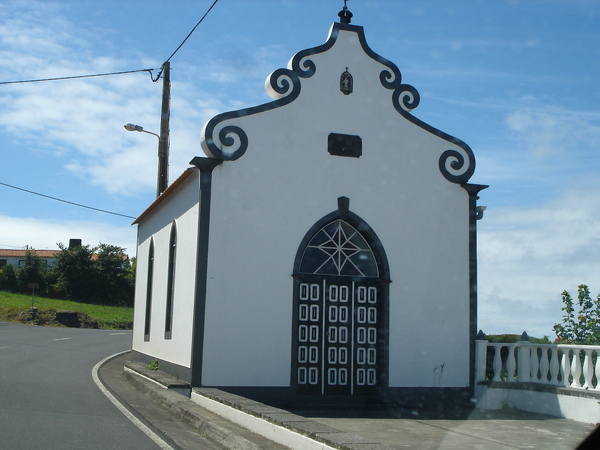 Being a devoted Roman Catholic country, every village and town on the island has a little church.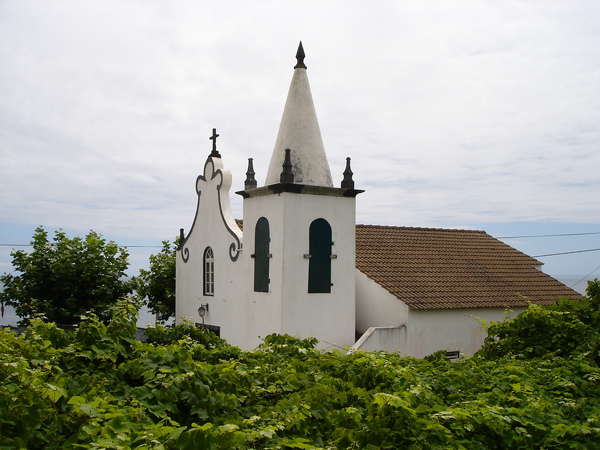 Another pretty church gable in the picturesque little village of Varaduoro.
xxxxxxxxxxxxxxxxxxxxxxxxxxxxxxxxxxxxxxxxxxxxxxxxxxxxxxxxxxxxxxxxxxxxxxxxxxxxxxxxxxxxxxxxxxxxxxxxxxxx
Auto Turistica Faialense Rent-a-Car
Address: Rua Conselheiro Medeiros, 12
Tel: 292 292 308/292 391 779
Cellphone: 966 121 114
Email: auto.faialense@mail.telepac.pt
www.autoturisticafaialense.com
Copyrights 2009. All Rights Reserved. All Photos and Text by YC Cheng.