For many years, I had used Lancaster's Lily Nectar & Iris Florentina Alcohol-free Softening Perfecting Toner until someone told me that Lancaster used vivisection (animal-testing) to test their cosmetic products. Since my favourite breed of dog is beagle, and beagles are often used for animal-testing because they are docile, uniform in size and easy to handle, I decided to give up on facial toners manufactured by well-known cosmetic firms and turn to organic products instead.
The problem with organic products is, they are usually very expensive and not all of them are suitable for my skin. Given the lack of reasonably priced alternatives, I resorted to using French thermal water sprays as facial toners ...
This lasted for a while until I was introduced to 100% pure rose water (rose hydrosol) produced in the region of Isparta, Turkey, while on holidays there. Turkish 100% pure rose water is obtained by distilling the petals of rose damascena and by separating the resultant essential rose oil from the hydrosol. 100% pure rose water is colourless and has a very light yet pleasant natural smell that reminds me of freshly cut roses with a greenish, leafy note.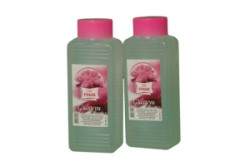 100% natural rose water from Isparta are usually packaged in cheap-looking translucent plastic bottles. But they should not be judged by their looks only. They might not look pretty on the outside, but these 100% pure rose hydrosols are of very good quality, and prices are very reasonable. I personally think that it is nonsense to spend 15 or 20 euros on a small bottle (i.e. around 100ml) of beautifully packaged so-called 'rose water'' from one of the well-known brands such as Jurlique , Kiehl's or Crabtree & Evelyn. More often than not, these well-known brands will charge you exorbitant prices for their rose water toners just because they add a few drops of essential oils or rose fragrance into their concoctions. In some cases, these 'rosewater toners' are not made from 100% pure rose water at all, but are mixed with paraben-based additives and other preservatives to prolong their shelf life.

Also, one should not confuse 100% pure rose water with synthetic rose water. Most of the so-called 'Rose Water' available from supermarkets and drugstores in the US and Australia are actually synthetic rose oil mixed with water and preservatives. If it smells of rose perfume, it is synthetic because real 100% pure rose water should smell like fresh leaves.
Pure rose water contains a lot of useful nutrients vital to keeping the skin healthy and glowing. It is anti-septic, anti-inflammatory and helps to slow down the oxidation process. It is pH neutral, suitable for all skin-types. Those with dry skin can benefit from the moisture-retaining property of pure rose water, as it hydrates and soothes the skin in a gentle way without drying it out. It has been used extensively by the cosmetic industry in the production of creams, lotions and bodycare products.

In addition to using pure rose water as facial toner, it can also be added to creams and moisturizers for face and body. It does have to make the skin smoother and less blemish-prone. Its calming effects also help to reduce skin irritation, which makes it a good choice of toner for those with sensitive or acne-prone skin.
Copyrights 2009. Text by YC Cheng. All Rights Reserved.