It seems there is a long-standing problem that foreign tourists visiting Goreme for the first time tend to be dropped off prematurely at Nevsehir bus station, although their ticket stated clearly that their final destination should be Goreme...
To be honest, it is not easy to tell when you board the bus in Istanbul or Ankara whether the bus will stop at Goreme station en route to Nevsehir, or it really by-passes Goreme and go directly to Nevsehir.
It is probably easier if one simply buys a ticket from Istanbul or Ankara to Kayseri instead, then change bus at Kayseri's huge bus station to Goreme. In this case, there is no danger of one being dumped at Nevsehir because the Istanbul-Kayseri or Ankara-Kayseri buses DO NOT go via Nevsehir. Hence you can be sure you won't be dropped off prematurely.
However, if one insists on taking one of those so-called 'direct' buses serving Istanbul/Ankara - Goreme, and finds himself indeed being told to get off at Nevsehir, be calm. There are a few possibilities:
1. The so-called 'direct' bus is actually not a direct service at all, but all passengers - Turkish or foreign - are required to get off at Nevsehir and change to a free shuttle service (so-called service bus, usually operated by the same bus comapny using mini-vans). If everybody (including all Turkish passengers) gets off the big bus, observe their movements. Normally 2 or 3 small vans operating the free shuttle service will appear almost immediately. One of those mini-vans heads to Urgup, another to Goreme. Ask which one goes to Urgup and which one goes to Goreme. These shuttle services are free and there is no need to pay anything extra for the bus.
2. If there are still passengers remaining on the bus, you can reasonably suspect that Nevsehir is not the final destination of this bus.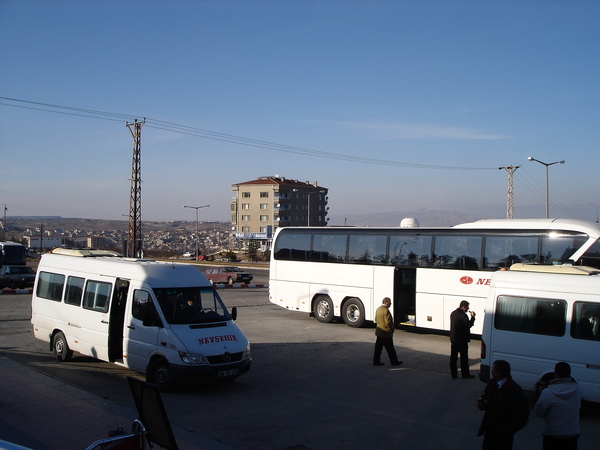 See the white mini vans in the photo? These are the free shuttle service that ferry passengers from Nevsehir bus station to Urgup and Goreme.
For those of you who have never been to either Goreme or Nevsehir before, but holds a ticket which stated that your final destination is Goreme, it is important to know how Nevsehir's bus station looks like, in case you are told by bus driver and attendant to get off prematurely at Nevsehir: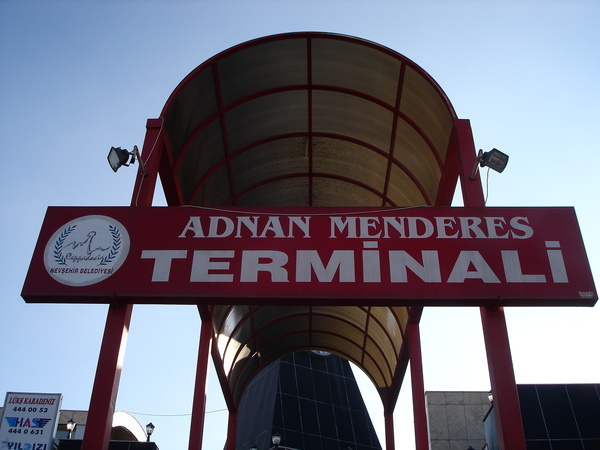 Front view of Nevsehir's bus station (Otogar/Terminali). If you are supposed to go to Goreme on a 'direct' bus, this place is not your final destination.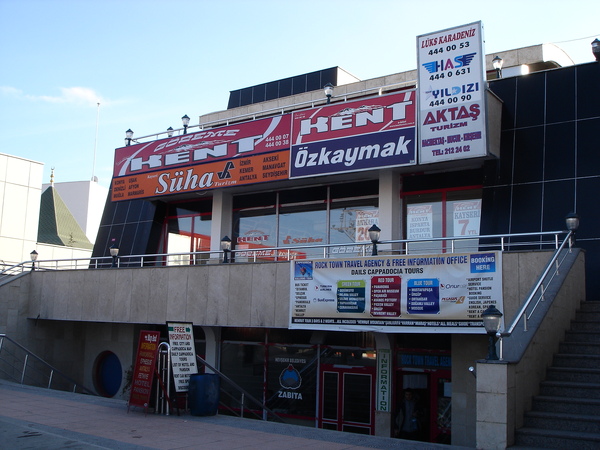 Front view of Nevsehir's bus station. The shop below the banner with a sign 'Information' is the infamous Rock Town Tour that supposedly collaborated with certain bus companies to get foreign tourists into their shop. If you don't want to book anything with them, just ignore them.

Nevsehir's bus station is located right next to a 'Total' petrol station, thus it should be easy to recognise: if there is a petrol station next to the bus station, you are not in Goreme yet!!!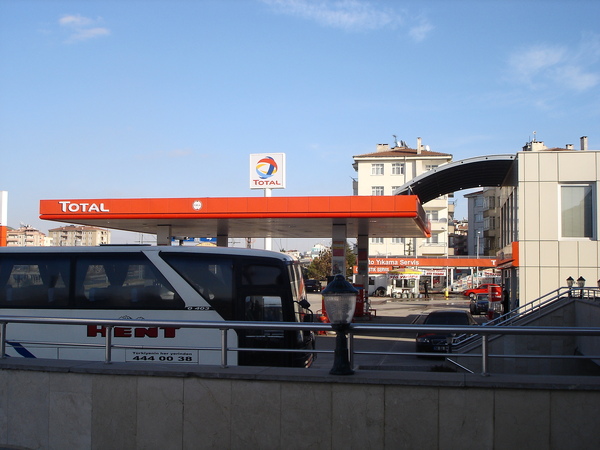 OK. What happens if you are really that unfortunate that you still get duped and dumped at Nevsehir bus station, the free shuttle service has already left (without you), and you don't feel like buying any tours from any travel agency nearby??
It's actually not too difficult to get to Goreme from Nevsehir bus station .... less than 150m away, in a big road called Kayseri Cad. (Kayseri Caddesi) right behind the bus station, you can catch mini-buses to both Goreme and Urgup.
Price: 1.75 YTL (January 2009) per person to Goreme.
2.50 YTL per person to Urgup.
So, here is how to get to the local mini-bus stops on Kayseri Cad. from Nevsehir bus station:

First, go out of the bus station from the back (i.e. from the exit at the back of the bus station)., away from the petrol station and the bus station. You will see a few buses parked here and there. Just walk past them and up the road away from the bus station. After about 60-100m you will see a big road in front of you, a supermarket and a carpark on your left, and the sign post of a huge Tansas supermarket: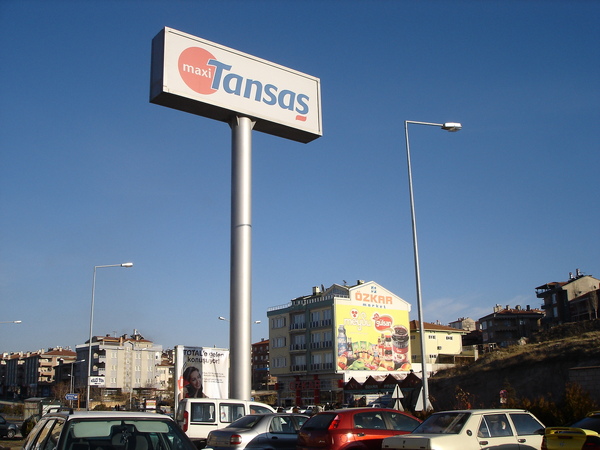 If you see this sign and , you are on the right track. The name of the supermarket is called Tansas.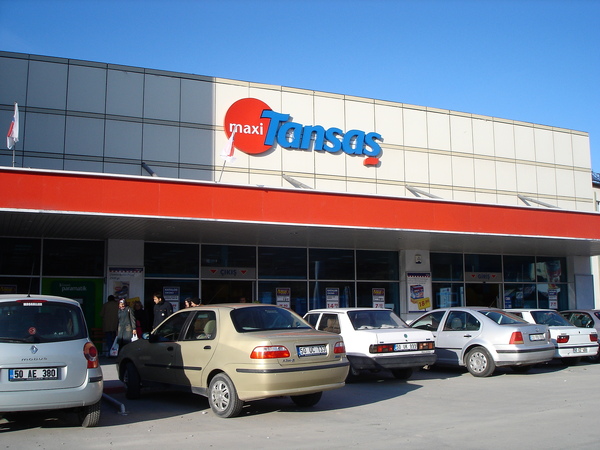 The other side of the big road (Kayseri Cad.) should look like this: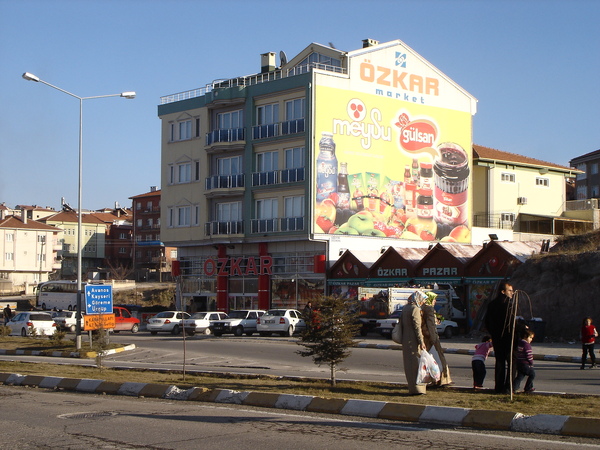 Cross the road to the other side. The municipal bus stop for mini-buses to Goreme is about 20m to the left of the building in the photo (see the blue road sign in the left of this photo? The bus stop is about 20m left of the blue road sign).
In the next photo, you can see the bus stops clearly.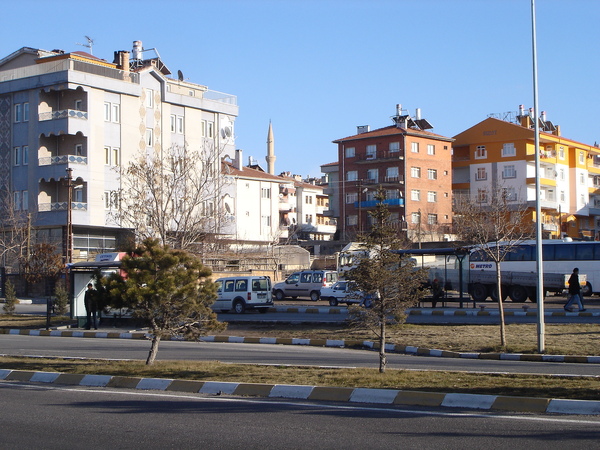 There are two bus shelters in this photo. If you are going to Goreme or Urgup. you should wait for the bus at the bus stop seen on the right-hand side of this photo, the one in front of the big white 'Metro' bus.
In the winter, the last Goreme-bound municipal bus leaves Nevsehir centre at 18:00, thus if you are at this particular bus stop at 18:05 or so, you can still catch the bus.
In the summer, the last bus to Goreme leaves around 19:00 or 19:30 from Nevsehir city centre (anyone knows exactly when the last bus leaves for Goreme in the summer? Please update me! A million thanks!)

Should you miss out on the last bus to Goreme, however, you can get on the municipal bus to Avanos at the same bus stop above, then tell the driver to let you off at the bus stop right outside of Goreme's bus station (about 20m from Goreme's bus station and Goreme city centre). Sometimes some bus drivers will tell you that the Avanos bus does not stop at Goreme: it's not true. Avanos-bound buses all pass by Goreme town centre and there is a bus stop on the main road, in front of Goreme bus station.

In any case, good luck when you decide to travel by bus to Goreme!!! I hope you can get to your destination without any problems.

Copyright 2009. All text and photos by YC Cheng. All Rights Reserved.