I admit I am a shopping fanatic. Every year, during the anuual winter sales and the summer sales, I have to spend a few days in one of Europe's top shopping destinations and splash out a fortune on designer coats, sweaters, shoes and handbags etc.
In contrast to most shopping addicts, I actually do not do my designer wears shoppings at one of the established fashion capital of the world, such as Paris, London or Milan. My favourite destination for spending money is the Spanish capital, Madrid. The reasons why I prefer Madrid to most other cities in Europe when it comes to designer goods shopping are:
a) Madrid has always been my favourite city with or without shopping
b) All the designers and brand names I fancy have flagship stores or boutiques in Madrid and they have my size (not easy to come by in other European cities given my 'petite' size)
c) The weather is almost always good and sunny in Madrid, even in winter - it's such a turn-off if you have to do shoppings in pouring rain or amid heavy snowfall
d) Prices of decent hotel accommodation are very affordable - I don't want to spend more than 50 euro on my hotel room when I spend almost 20 hours per day outside running from one boutique to another.
e) Overseas visitors from outside the EU are entitled to tax refund as soon as purchase 91 euros or more in one store - an easy to attain target given that any designer handbags will cost at least 100 euro, Unlike Italy, where you have to purchase 130 euros or more at a shop, or worse still France, where you need to buy more than 172 euros in one shop before you are allowed to claim your VAT back, Spain are a good bargain indeed.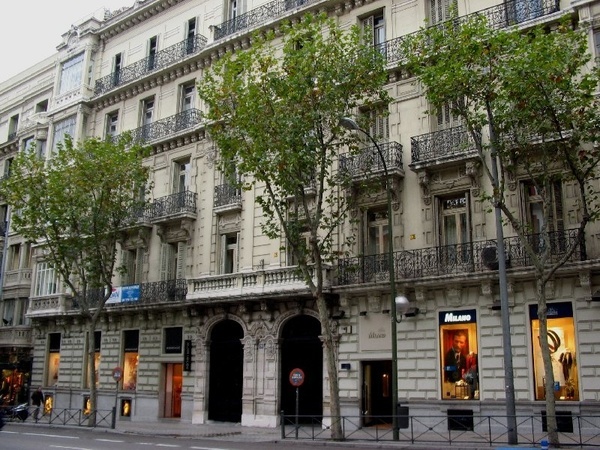 Calle Serrano - Madrid's No. 1 Shopping Street and one of the most upmarket districts of the Spanish capital, where some of the world's most exclusive labels and brands can be found.
Thus a shopping pilgrimage to Madrid has become an annual fixture in my calendar: usually I choose to fly to Madrid in January for 3-4 days because Spanish winter is not as harsh as most other countries in Europe and it is great to spend a few days in the bright winter sun.
The shopping trip usually takes place as soon as I get off the plane at Madrid's Barajas Airport. It takes about 40 minutes from the airport to Madrid's prime shopping district - Calle Serrano and Calle Jose Ortega y Gasset - by subway. I always try to find affordable accommodation near Calle Serrano so that I don't have to waste too much time on public transport to and fro from the hotel.
First Stop: Corner of Calle Serrano and Calle Goya
Walk towards the direction of Puerta de Alcala (Retiro Park). En route on the left-hand side is the flagship store of one of my favourite leather goods brand - LOEWE. There are 2 stores on Calle Serrano, one for the men and one for the ladies. The Lady's store is located at the corner of c/Serrano and c/ Jorge Juan.
LOEWE is one of the most famous (and expensive) leather goods manufacturers in the world and a leather handbag usually starts at around 700 euros. During sales, you might be able to get some colours and models for about half the price. They have beautiful handbags, shoes and more leather accessories, but prices are usually extremely steep. Be prepared to diet on bread and butter for a few months unless you have a lot of ready cash in your bank account.
(On the way to LOEWE, you will pass distinguish brand names and fashion houses such as YSL, La Perla, but since these brand do not really interest me, I just stop and have a look at their windows instead of going inside.)
After LOEWE, cross c/ Jorge Juan and continue till the corner of c/ Serrano and c/ Villanueva. where the store of CAROLINA HERRERA stands. CH is a New-York based designer of Chilean origin and she designs very pretty handbags and jeans. The thing which interests me most about CH is, you don't find them elsewhere in Europe outside Spain and Portugal. And I love designer goods that you don't find elsewhere. The prices of CAROLINA HERRERA are slightly more affordable than those of LOEWE.
If you like Italian designer brands such as DIESEL and ARMANI COLLEZIONI, crosss c/Villanueva and you shall see them appearing on your left hand side. I used to shop regularly at Armani Collezioni until I get fed up of sending my sweaters or tops to drycleaners after wearing them for just a few hours.
Which is what brings me to my next shopping stop on C/ Serrano: the irreistable MAX MARA - they have been my favourite designer label for several years now. Actually I can't recall when or how I come across Max Mara women's wear for the first time, but a visit to Max Mara is the absolute must on every shopping pilgrimage of mine.
xxxxxxxxxxxxxxxxxxxxxxxxxxxxxxxxxxx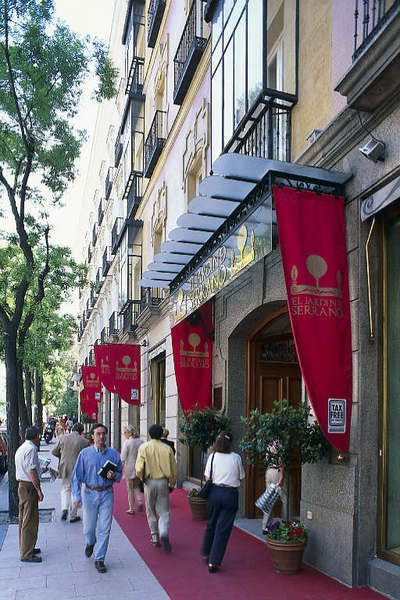 Main entrance of Jardin de Serrano, a high-end shopping centre, on C/ Goya.
From C/Serrano towards the direction of C/ Jose Ortega and Gasset
This is a long walk and will involve at least 5 shopping stops en route. Be careful you take a rest every 30 minutes or so.
From CAROLINA HERRERA, walk back towards C/ Goya, stopping en route at PURIFICATION GARCIA (next to La Perla store on C/ Serrano). PG is a Spanish designer brand selling fashionable women's wear at affordable prices (I would call it a up-market ZARA). They are very well-known within Spain but not so famous in other countries. Although their designers target younger customers, sometimes you do find decent things in their stores. Worth having a look since you are already there.
Cross the street at C/Goya and on your right, you will see the famous Italian leather good brand - SALVATORE FERRAGAMO. They have beautiful leather goods, shoes and handbags (of course), also nice womens' pret-a-porter but prices are not cheap. Right next door is my all-time favourite - MAX MARA. As soon as I set foot in this store, I will not come out empty handed. They are most famous for elegant women's winter coats, tops, knitwears and jackets.
After MAX MARA, cross C/Serrano and on the corner of C/Serrano and C/Hermosilia is BALLY, my favourite shoes and handbag manufacturer from Switzerland. Strange enough, BALLY's shoes are the only brand that my feet feel comfortable in, thus every year provisions have to be made for new BALLY shoes.
xxxxxxxxxxxxxxxxxxxxxxxxxxxxxxxxxxxxxxxxx
LUNCH STOP!
By the time I come out from BALLY, it is well past 1 in the afternoon and it is time for lunch. Walk past C/Ayala and there is a Starbucks cafe and a VIPS/Rodilla coffe and snack shop on the left-hand side. This is where I usually stop for lunch - I need a shot of Caramel Frappucino from Starbuck to ease the aching feet. Starbucks in Spain also offer a good selection of salad bowls, sandwiches and cakes.
(For those of you who are in love with high heels of Manolo Blahnik, there is a shop in a small one-way street just off on the opposite side of Calle Serrano, right across from VIPS).
After lunch, Spain's numero uno department store 'El Corte Ingles' awaits right in front of me. This one on C/Serrano is a good place for those who are short of time yet still want to indulge themselves in some luxury goods shopping experience. Inside the store you will find many brandnames: Burberry, Ferragamo, Celine, Carolina Herrera, Gucci, Prada, Furla, Escada, Boss ..... etc., plus many local designer names such as Tintoretto (this Spanish fashion brand offers wonderful winter jackets and very chic women's wear at very reasonable prices), Purification Garcia, Adolfo Dominguez, Tous, Pepe Gonzalez & & &. The selections available could be quite different than those found in the flagship stores, thus it is worthwhile going around each storey and try your luck.
During sales, El Corte Ingles will be full of people thus it is advisable that you arrive early in the morning to avoid long queues at changing rooms or cashiers.
If you are looking for expensive jewellery or diamond studded watches from Bulgari, Chopard, their stores are just 20m away from El Corte Ingles.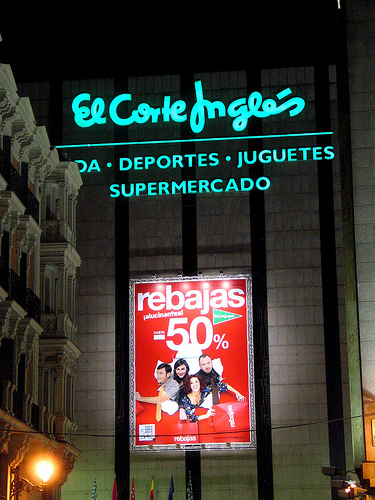 Sales - Rebajas in Spanish - at El Corte Ingles. The sight of this poster alone will send my pulse racing...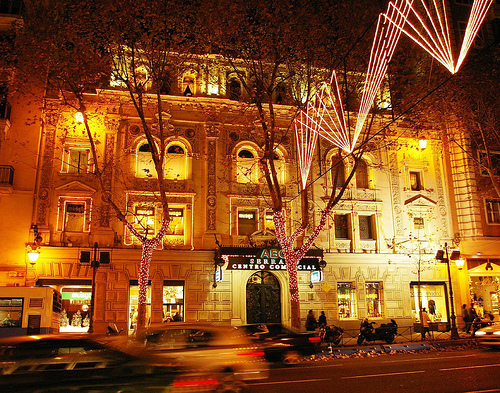 ABC Serrano Centro Commcercial - a high-end shopping centre on C/Serrano, a few hundred meters away from El Corte Ingles on C/ Serrano. Fashionable high-street brands and Spanish designer labels all can be found under one roof.
xxxxxxxxxxxxxxxxxxxxxxxxxxxxxxxxxxxxxxxxxxxxxxxxxxxxxxxxxxxxxxxxxxxxxxxxxxxxxxxxx
Fourth Stop: turn right onto C/Jose Ortega y Gasset
For those of you who have expensive taste and love expensive stuffs produced by the likes of Dior, Dolce and Gabbana, Chanel, Escada, Hermes, Louis Vuitton, Versace, Valentino, Cartier etc., make sure you turn right onto the exclusive shopping and residential avenue of Calle Jose Ortega y Gasset, a street named after the Spanish philosopher. You don't need to have a PhD in philosophy in order to shop on this street, just make sure you have several credit cards with you.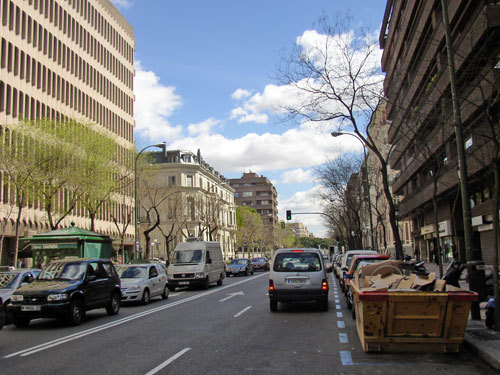 C/ Jose Ortega y Gasset - it might not look glamourous at the first sight, but this street has some of the most expensive boutiques in the whole of Spain.
Given that I have neither the financial strength nor the figure to wear anything from the above Haute-Couture fashion houses, I will skip all of the above and head straight to the one and only store that really interests me: tucked away in a small side street off C/J.Ortega y Gasset is Furla, the Italian leather goods maker from Bologna which offers arguably some very chic bags and accessories at very decent prices.
After the busy few hours contributing to the growth of the Spanish economy, sit down at the Starbucks cafe on Ortega y Gasset, have a drink and enjoy the view of handsome Spaniards and elegantly dressed Spanish ladies in this chic part of the city.
Copyright 2008. Text by YC Cheng. All Rights Reserved.