Thessaloniki is a great city, one of my favourite cities in the world, and 100000 times prettier than Athens !!!
Unlike the never-ending traffic jams, air pollution, terribly bad streets and ugly buildings in Athens, Thessaloniki has everything that I like: scenic setting on the coast, tree-lined boulevards which reminds me of spring in Paris, numerous beautiful squares with marvellous architecture in the city centre (very similar in terms of flaire to Turin, my favourite Italian city), elegant and chic open-air cafes, great shopping opportunities, picturesque buildings and very friendly inhabitants.
I stayed at Hotel Luxembourg, located right at the heart of Thessaloniki's upmarket shopping districts when I visited Thessaloniki in August. The hotel's exterior looks more French than Greek. There are many good cafes and restaurants nearby, you won't be running short of options.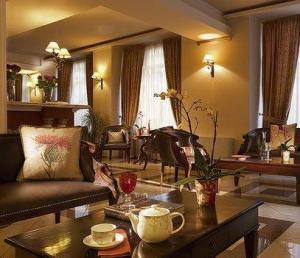 Hotel lobby and reception. As soon as I entered the door, I was impressed by the beautiful classic elegance of the design. They use antique furnitures all around and it feels great to have a cup of tea in such surroundings. As I had arrived very early in the morning (at 0800), my room was not ready yet and the friendly lady at the reception asked me to sit down on the sofa and enjoy some tea. Free WiFi internet is available throughout the hotel, thus I decided to make sure of the time to catch up on some news.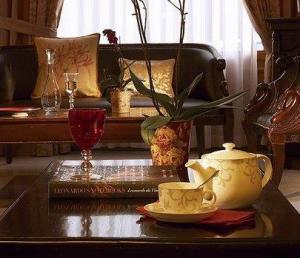 This certainly feels more French than Greek, but we are in Thessaloniki after all, and the city is well-known for grandios buildings, beautiful squares and good cafes similar to those in France itself.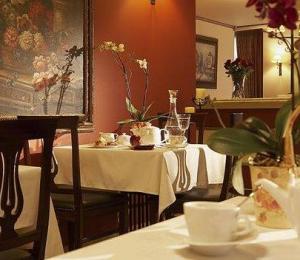 Hotel's breakfast room is located on the other side of the hotel lobby and offers good selection of bread, breakfast cereals, cold meats, cheese, hot food and the coffee/tea is freshly brewed. However, make sure you wake up early for the self-service breakfast. Because Hotel Luxembourg is very popular with American tourists, who tend to snatch up hams and cold cuts as soon as they appear on the buffet table. I came down too late on the first day to the breakfast room and almost everything was gone.....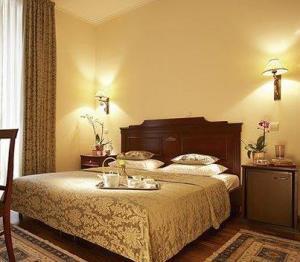 My room is on the 6th floor, with a window and a view of the streets and the building opposite the hotel. The room has nice decor, painted frescos on the ceiling, comfortable bed and free internet, however, the private shower + toilet is a bit small and as soon as I am inside, it is a bit difficult to turn around and close the door at the same time. Apart fromthat however, I really love this place. Good location, good breakfast, friendly staffs and bargain price even for August. No wonder the hotel is constantly fully booked.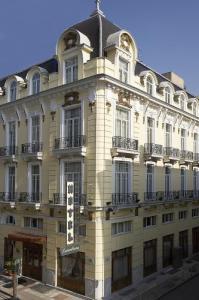 This is how the hotel exterior looks like. One would have thought this is somewhere in Paris or France, but no, it is right in the centre of Thessaloniki.
Copyrights 2008. All Rights Reserved.