Our next destination after Porto is Lousa. As we spent far too much time in the morning sampling Port wine and enjoying lunch on the bank of Rio Douro, we did not leave Porto until 4 o'clock in the afternoon. The drive to Lousa is another mini-adventure: we again lost our way while trying to find the road from Coimbra to Lousa. We saw one sign post which stated 'Lousa' as soon as we got off the highway at Coimbra, but fail to see any further sign posts after that. Not knowing which way to go, and there are at least 10 roundabouts in Coimbra (all without signs pointing out which direction is the way to Lousa), we ended up driving around Coimbra in circles. After one hour we became really fed up with such aimless search, especially as it was already late and we really did not want to drive into the surrounding hills in complete darkness. Fortunately some passerbys told us the right direction and after a few wrong turns, finally found the road that is supposed to take us all the way to Lousa.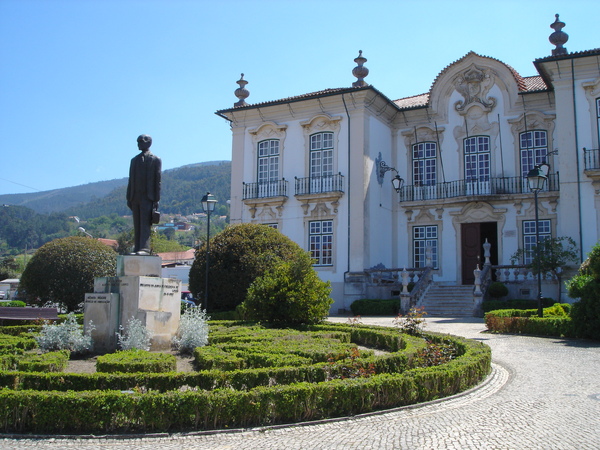 Lousa is about 1.5 hours' drive from Coimbra. The town has some pretty traditional mansions and houses. As you probably have guessed by now, of course we did not find our way to Lousa without any hitches. It was not too easy to drive in the night along a stretch of winding road into the hills when you do not even know where you are. Sign posts are almost non-existent for a long stretch of the route, and, when they finally appear, there are 4 of them all at one spot, all pointing to Lousa. You just can't help but ask why the authorities (or whoever is in charge of this area) can't place these signs at equal intervals??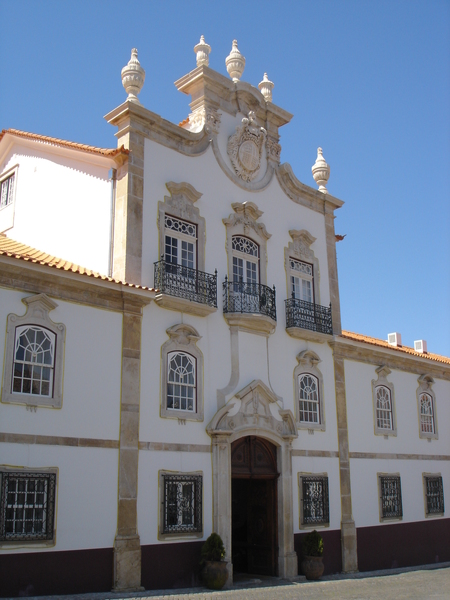 Anyway, after driving around in Portugese countryside for 2 hours (stopping freuqently to ensure we are still on the right track, as the routes indicated on the map are completely different from the routes we actually passed by), we finally found Lousa. Once we were there, things became much easier. Lousa is a small town but the inhabitants are extremely friendly and helpful. The hotel we stayed at is Melia Palacio Hotel (seen in the photo above), a very elegant hotel located in a former convent. The best thing I like about this hotel is the friendly service personnels, the beautiful interiors (tall ceilings, windows, sunny terrace, and a bright, airy breakfast roomthat serves very good breakfast buffet with plenty of fresh fruits and freshly brewed coffee). As I am not a fan of American coffee, the friendly waitress at the breakfast room specially prepared a big bowl of wonderful latte with plenty of steamed milk broth for me. You can have your breakfast inside in the airy breakfast room with a good view of the lush green hills, or sit on the sunny terrace and sip your coffee while listening to the sound of birds chirping on the trees nearby.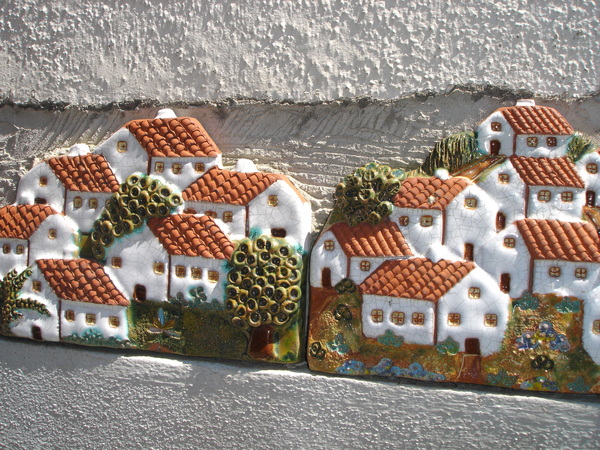 Pretty decorations on the walls of a house in Lousa.
Copyrights 2009. All photos and text by YC Cheng. All rights reserved.