For those of you who have always believed that St. Nicholas a.k.a. Santa Claus lives in Lapland, Finland, sorry to disappoint you: he is actually from Turkey, and his place of residence is a sunny, hot seaside town called Demre (called Myra during his lifetime) which has neither snow nor reindeers.
Myra (present day Demre) was an important trading town in ancient Lycia during the Roman times, and St. Nicholas - born in Patara near present-day Fethiye - was the bishop of Myra who became famous for his kind deeds towards the poor and the needy. The ruins of Myra is located about 3km inland from the modern town of Demre (about 20-30 minutes by foot). During the summer, many Russian tourists came to Demre for a one-day pilgrimage to the sacred St. Nicholas Church to pay homage to Russia's most beloved Saint (St. Nicholas is the patron Saint of Russia). The little square in front of St. Nicholas Church is full of shops catering especially to Russian tourists and pilgrims, selling everything related to St. Nicholas.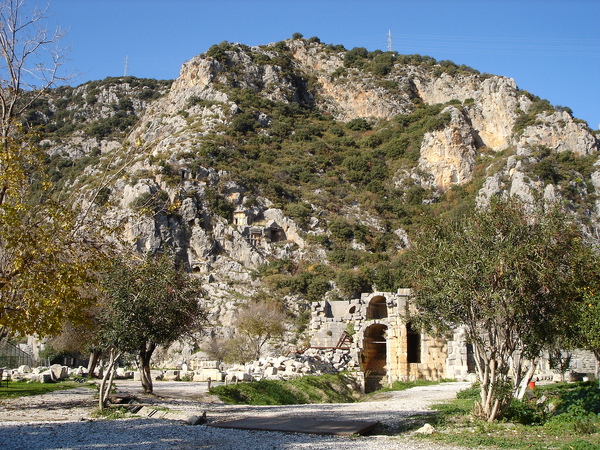 The ruins of Myra with the famous rock-tombs and the amphitheater. The walk from Demre town centre to Myra passes through some pleasant scenery and lots of tomato green houses. The region surrounding Demre is one of the most important areas of production of tomatoes and citrus fruits (lemon, orange etc) in Turkey. Everywhere you can see rows after rows of green houses.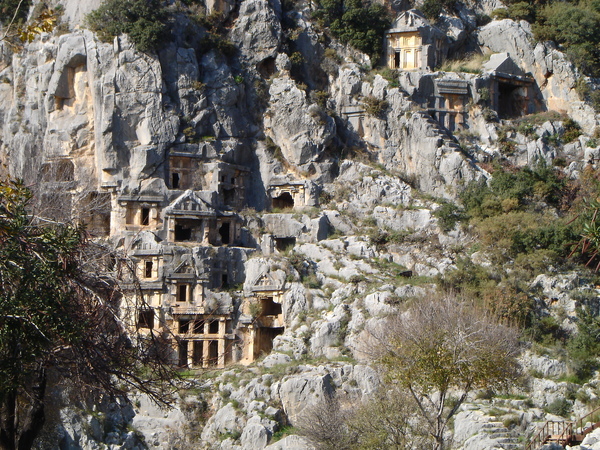 A close-up shot of the Lycian rock-tombs carved into the cliff face.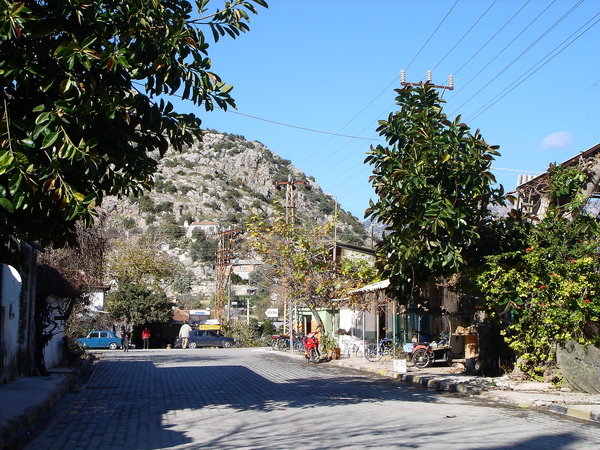 The little village near the entrance to Myra.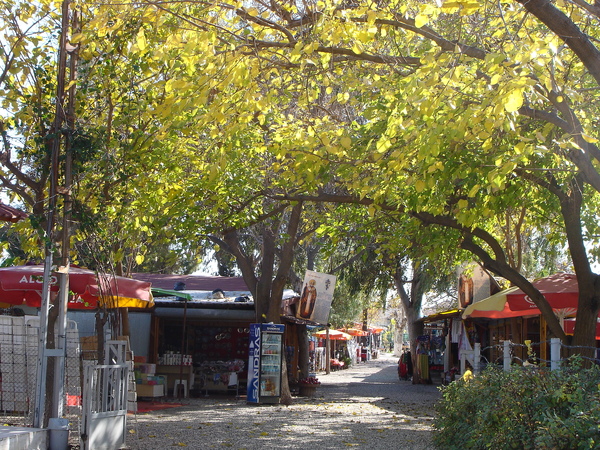 Stalls and shops selling all sorts of stuffs related to St. Nicholas in front of the entrance to Myra.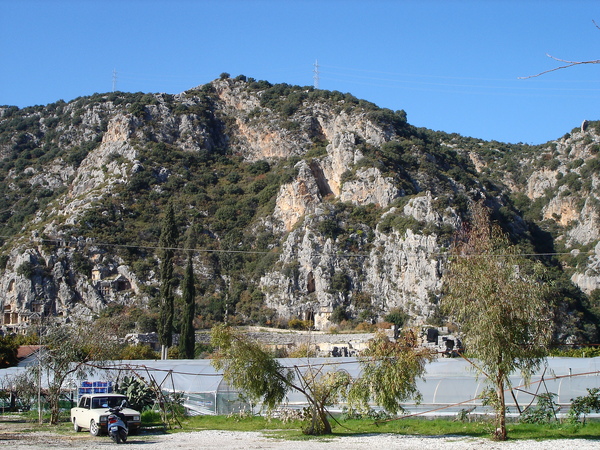 Green house right in front of ancient Myra.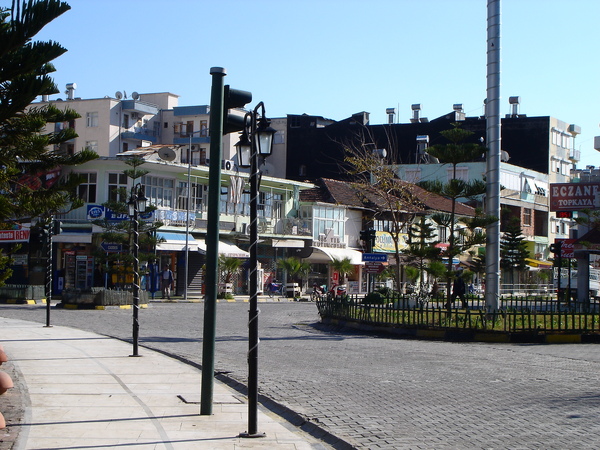 The town centre of Demre, the modern incarnation of St. Nicholas' home town.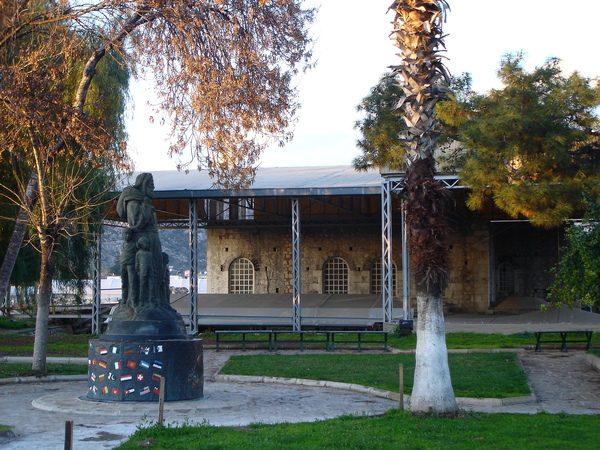 The statue of St. Nicholas with the 3 little kids he had rescued/resurrected from meat pies from the evil inn-keeper.... in the background is the St. Nicholas Church (entry: 10YTL) where the Saint's worldly remains used to lie until they were stolen and smuggled to Bari, Italy by relic hunters/thieves.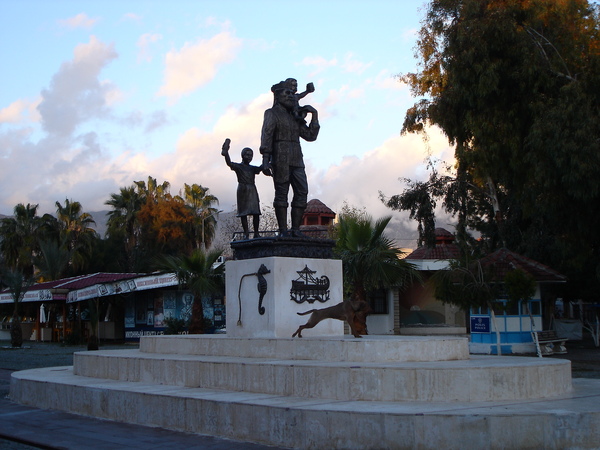 Another statue of St. Nicholas in the little square in front of the church.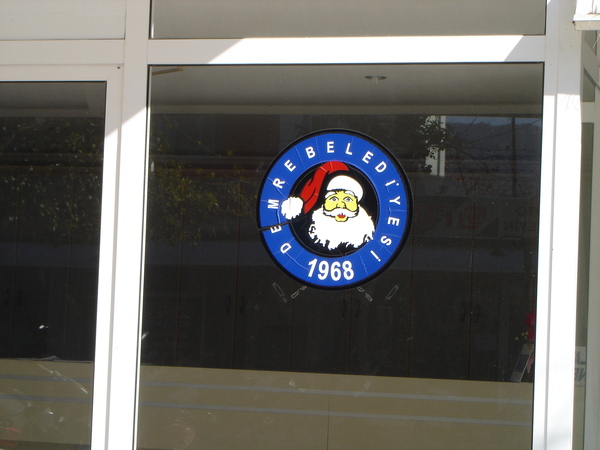 The coat of arm of the town of Demre.
Copyrights 2009. All text and photos by YC Cheng. All Rights Reserved.