After 3 days in Mytilini, I decided to look for a new hotel to stay. It was weekend when I first arrived at Mytilini and most hotels near the harbour were fully booked. Thus I had had no choice but to settle for any accommodation I could find.
After walking around the centre of Mytilini for a while, I came across a small hotel in a side street right behind the main harbour avenues. It is situated in a restored old Greek house and looks all right from the outside. I asked at the reception if they had any room available for next week, half expecting they would say 'sorry, we are full' but to my surprise, they still had vacanies and they accept credit card payments.
The room is sunny and I particularly like the stone wall and the homely feeling of this little hotel.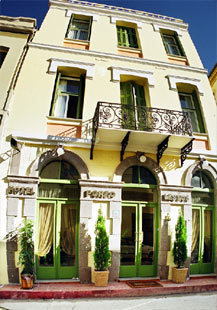 Main Entrance to the Hotel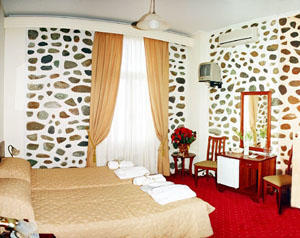 Guestroom with stone walls and windows overlooking the courtyard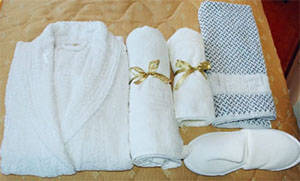 They also provide bathrobe, slippers, towels etc, but unfortunately there is no swimming pool in the hotel complex.
Breakfast are served in the small dining place on the ground floor. The staffs (3 of them) are all very helpful and friendly. One of them used to live for a few decades in Australia before returning to Greece after retirement.
Copyrights 2008. All Rights Reserved.