While I was still living in Bodrum, Turkey, I had to exit the country once every 30 days due to visa restrictions. The easiest and cheapest way of renewing your Turkish visa is to go to any Greek islands off the Turkish coast, and return on the same day - in the case of Bodrum, the nearest Greek island is Kos.
But after a few times going to Kos on a day trip (plus Schengen hopping visa excursion), I thought it was time to try out other nearby islands too. So I looked at the map and visit all of them one by one.
Chios caught my attention because of two things:
1. Legend has it that Homer was born in Volissos, Chios. Whether this is true or not, is still being disputed by historians, but at least it has been recognised by all authorities that Homer had indeed spent a long period of time residing on Chios.
2. Chios is home to a very unique plant species: Mastic gums (a.k.a. Mastiha, or pistachia lentiscus var. Chia). This is a funny plant: although it could be found in many places across the world, only those grown in the southern half of the island of Chios release resin that has a special armoatic flavour when cut. Those that are grown elsewhere - even on the northern half of Chios - do not release any aromatic resin when cut. Until now nobody can explain why this plant behaves in such a way. Some Japanese scientists had transplanted some mastic trees with soils from Chios to Japan and still the plant refuse to yield any resin as soon as it is out of the southern half of Chios.
As a result, Chios has the virtual monopoly over the highly lucrative mastic trade eversince the Roman times. Despite being ruled by different Empires (Romans, Ottomans etc.), Chios was always given preferrential treatments and semi-autonomous status, thanks to its monopoly of mastic production. Chios mastic is also one of the Protected Designation of Origin (PDO) products as well as a protected geographical indication (PGI) name.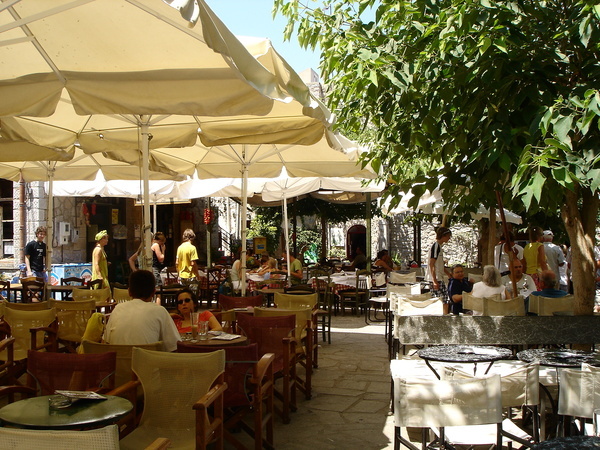 A nice cafes in the fairly affluent Mastic village of Pirgi, southern Chios. The production of mastic on Chios has been controlled by cooperatives and 24 so-called 'Mastic villages' in the southern half of the island. Most of the mastic villages have a fairly well-preserved medieval village centre. Pirgi, for instance, is famous for its painted facades, frescos and walls that signify the mast amount of wealth accumulated from the mastic trade. Because the price of mastic has remained stable in the past decades, Chios is one of the few Greek islands that is not dependent upon tourism as its main source of income. As a result, there are neither big hotels nor well-developed tourist resorts on Chios. It was in fact fairly difficult to get any accommodation on the island which cost less than 40 euro per person per night.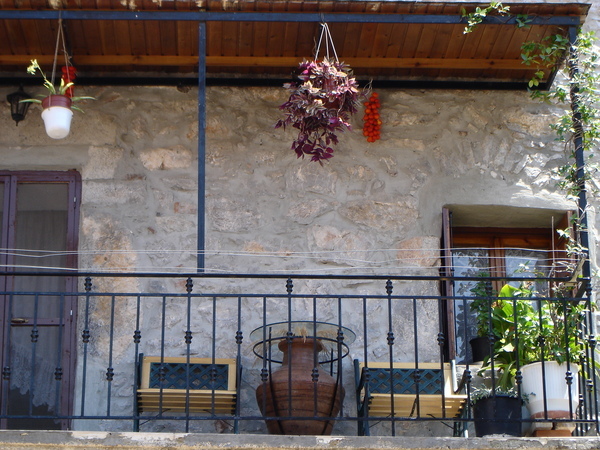 Fresh tomatoes hanging on the balcony: this is a common sight at Chios mastic villages.
Mastic gum has been used in a wide range of products for its antiseptic and curing properties. It is known to be able to effectively reduce bacterias in the mouth and helps to prevent inflammation of skin etc. Romans used mastic gum to cleanse their teeth. The use of mastic as food ingredient became popular in the Middle East and the Near East when Chios came under Ottoman rule and has remained an important part of the region's cuisine till this day. Mastic gum is also the crucial ingredient in the making of confectionary and sweets, including the famous Turkish delights (although I am not very fond of it except for the rosewater flavour).
Korres, a Greek skincare brand that produces wonderful skincare products and cosmetics with natural herbal extracts, has developed a line of skincare products called 'Greek Floras' with Chios mastiha gum as its main active ingredient - which, I must say, has one of the best face creams and eye creams I have ever used. The project was launched in active collaboration with Chios Mastiha Growers Association (CMGA), the local farmers' cooperative that promotes and markets the Chios mastic both in Greece and overseas. CMGA also has its own flagship stores - called the Mastiha Shop - on Chios, Athens, Thessaloniki, Rhodes etc. It was one of my favourite stores around the globe: the shop looks more like a posh boutique with a wide range of nicely-packaged skincare products, shower gels, shampoos, hand soaps, hand creams, sweets, preserves, etc.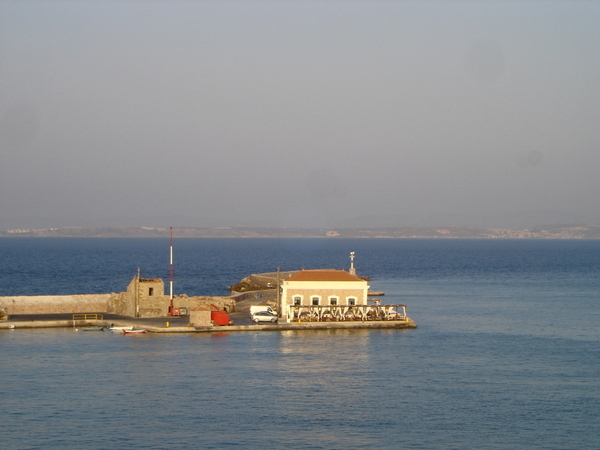 The view of Chios town's harbour. In the distant background is the coast of Turkey near Cesme.
I arrived at Chios on board a lousy ferry - Penelopi - of Agoudimos Lines. Try to avoid this ferry if you can. It was a long journey all the way from Kos via Kalymnos, Patmos, Samos to Chios. Chios' wealth is evident: the whole harbour is full of posh bars and ultra-modern cafes frequented by locals. Unlike the majority of Greek islands, Chios is not dependent upon tourism as its main source of income. Subsequently it took me some time to find a decent accommodation at affordable prices.
Any trip to Chios should include a visit to some of the island's mastic villages - I went to three of them but to be honest, I was rather disappointed by them. Yes, the medieval town centres are kept in good conditions, but they lack a certain atmosphere that would keep you enchanted. Even Volissos, the supposed birthplace of Homers, was disappointing: everywhere you see old stone houses with overgrown gardens almost crumbling to pieces. The only good thing is that you don't get to see any other tourists over there.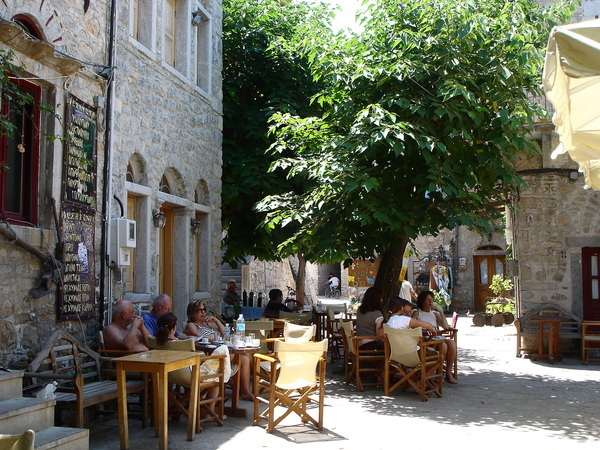 A decent corner cafe near the Orthodox Church in the village of Pirgi. The ice-coffee was excellent in the steaming summer heat - more than 40 degree Celsius!!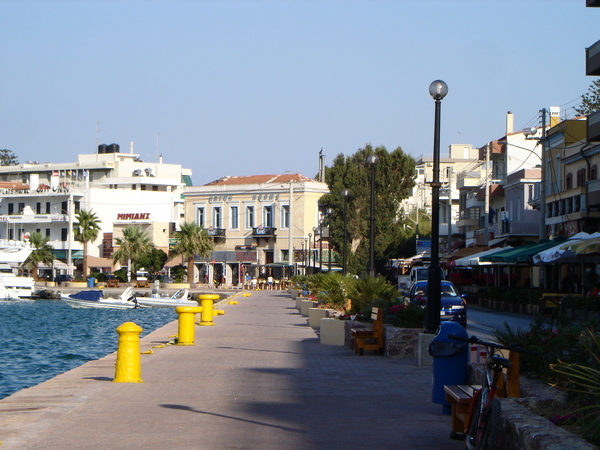 Harbour front of Chios Town with all the posh cafes and flashy bars. In the evening, it was nice to sit at one of the waterfront cafes and look at the ferries entering the harbour. The Mastiha Shop also has free seating in front of its flagship store. For three days in a row (I spent altogether 3 days on Chios), I shopped at the Mastiha Shop and fill my suitcases with all sorts of Chios mastic products....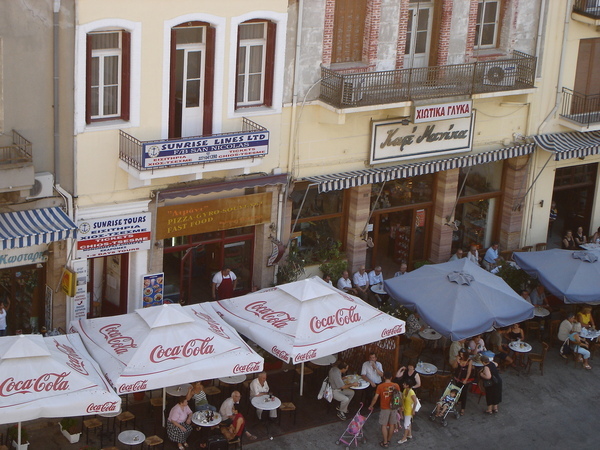 One of the waterfront cafes near the harbour. In the evening, it is also the gathering place of many residents of Chios town.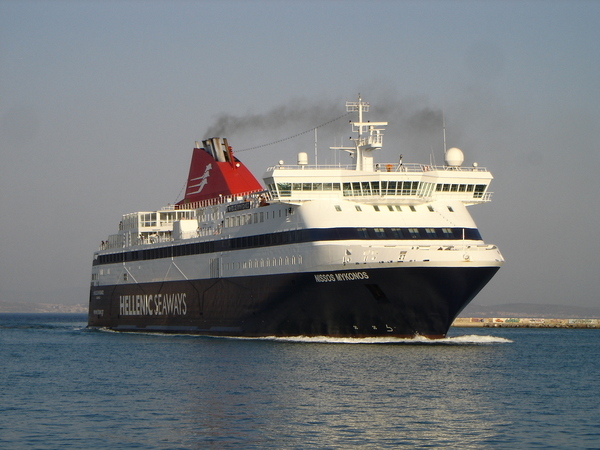 Here comes the ferry that would take me northwards to Mytilini, Lesbos. The ferry 'Nissos Mykonos' is a brand new high speed ferry built in 2005, with comfortable interior and aircraft-type seating. After the terrible trip on board 'Penelopi', I thought it was wise to spend a few more euros and travel with a modern vessel instead of some rusty old ship that smells of smoke. In 2008. a brand new high speed ferry 'Nissos Chios' replaced 'Nissos Mykonos' on the Piraeus - Chios- Mytilini route. It is supposed to be even better than 'Nissos Mykonos'.


Copyright 2008. All text and photo by YC Cheng. All Rights Reserved.