The good thing about renting a holiday apartment in La Rioja is, you can rent a car and explore the surrounding countrysides at your own pace. And there are several highly interesting cities for those who want some thrill and fun, all within 3-4 hours' drive from La Rioja, easily accessible thanks to Spain's great highway systems. You can choose from the likes of San Sebastian, Pamplona, Bilbao, Burgos etc. As one Spaniard puts it, 'the possibilities are endless'.

Since we already stayed overnight at Burgos on our way from Madrid to La Rioja, we opted for a full day-drive tour from Ezcaray to San Sebastian and return via Bilbao instead.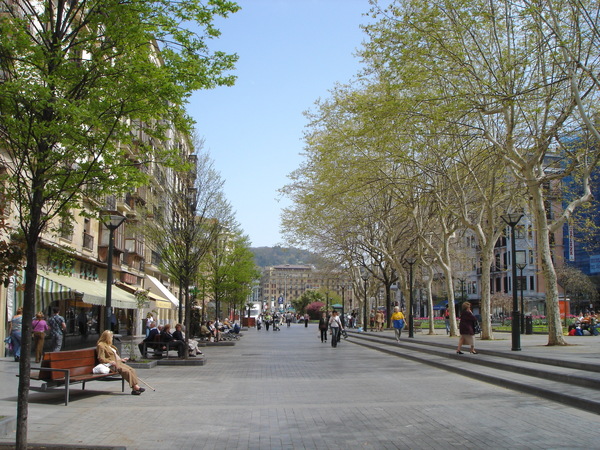 San Sebastian is a beautiful city, located right on the northeastern part of the Basque Country close to the border with France. There are lots of things to see and do in the town: you can stroll around, shop at one of the exclusive boutiques, enjoy a leisurely afternoon on the beach, or just hang around doing nothing. Being the location of a world-famous film festival, there are a lot of posh shops and expensive hotels and bars in San Sebastian. Locals also display very good taste in terms of outfits and the way they look and behave. Needless to say, being the culinary capital of the Basque Country, you find good and inexpensive resturants virtually everywhere you go.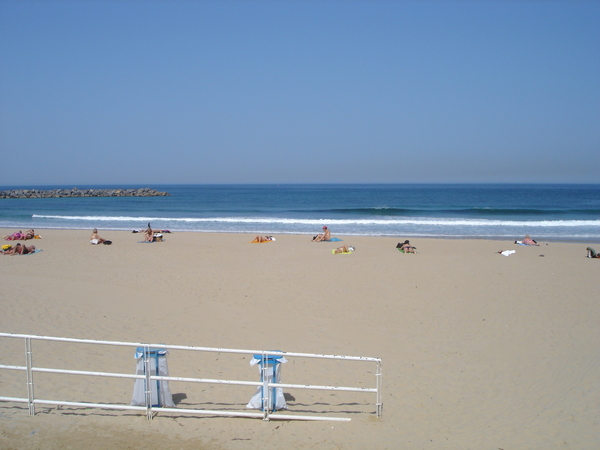 Wonderful soft white sand beach right on the shore of San Sebastian, 5 minutes' walk from the busy town centre. Topless sunbathing is allowed on this beach as we saw at least 4 or 5 bathers of both sexes tanning themselves on the beach.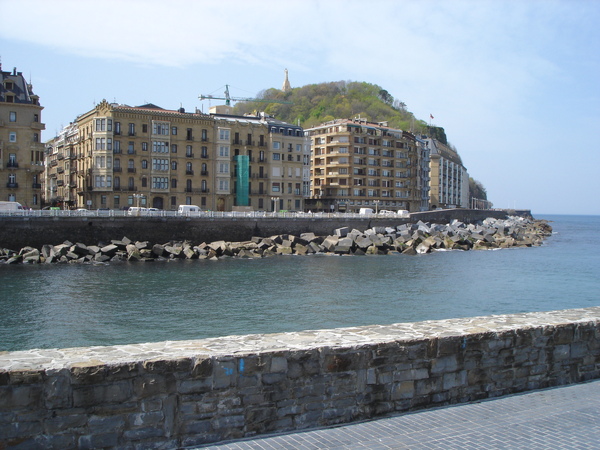 Besides glamourous film stars and beautiful scenery, San Sanbastian also has its fair shares of nationalist sentiments. It still is a bastion of Basque nationalism; many public and government buildings in the city are vandalised by those who sympathised with the Basque nationalists. You can see paints in the colours of Spain's national flag thrown all over the front facade of many government buildings, practically defacing them: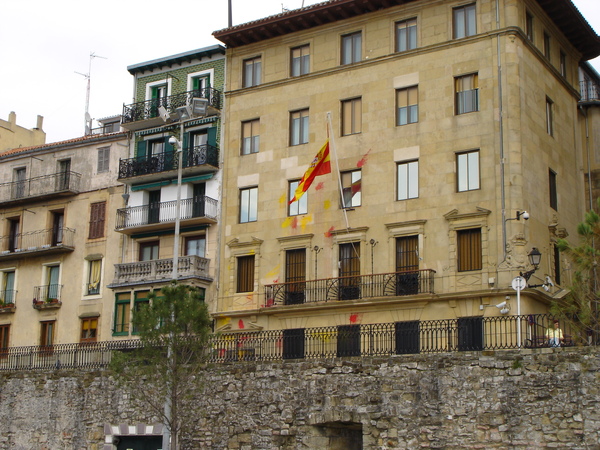 In spite of such public display of disaffection towards the Spanish state, the Basque Country has some of the most helpful and friendly people we have ever met. It does not matter whether they know you or not; when they see you on the streets, you will be greeted by a polite 'Hola!' and a genuine smile, especially in the countrysides. A simple gesture yet it goes a long way....
Copyrights 2009. All Rights Reserved. All photos and text by YC Cheng.