Every country which has (or used to have) a monarchy will find that that venerable institution usually comes attached with a string of specialist shops and merchants offering goods and services of all kinds to members of the monarchy. For instance, in Vienna, the capital of the former Austro-Hungarian Empire, you will see countless tourists from Asia and the US waiting patiently at the counter of Demel's Confectionary shop to spend their hard-earned money on some pieces of ridiculously expensive chocolates and cakes, simply because Demel's were the appointed Imperial Confectionary. Same crowded phenomenon applies to shops and merchants all over the UK who have the honour to provide members of the British Monarchy with clothing, tea, candies, footwear... etc. As a matter of fact, these shops and merchants have attained such degree of global prominence and popularity that you can find their goods and services virtually everywhere you go.
Which is why it is a bit unusual to see neither long queues nor anxious tourists crowding inside the very same shop where Haci Bekir, the inventor of Turkish Delights and Imperial Confectioner to the Ottoman Courts, first concocted the sweet meat some 232 years ago.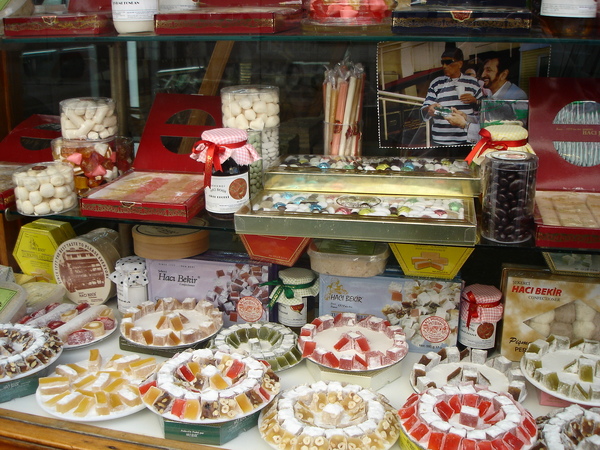 This is not to say their Turkish delights are not tasty or anything; as a matter of fact, I find Haci Bekir's products much better in terms of consistency and quality than most of those no-name brands sold in the Spice Market. Their prices are also very reasonable. Perhaps it is because unlike Demel of Vienna or Twinings of London, which are now basically shops that cater to foreign tourists instead of locals, Haci Bekir of Istanbul still retain the down-to-earth character and is still very frequently patronized by local Istanbul residents. They have two shops in Eminonu, one in Taksim on the Istikal Caddesi (which, for whatsoever reason, has attracted a far greater number of foreign visitors than the original shops near the Spice Bazaar), and several others all over Istanbul.

The thing I like about the original Haci Bekir Confectionary workshop is that it still retains a very authentic, rustic charm which reminds me of traditional candy shops in small-town Turkey. The variety of Turkish delights on offer are numerous and very pleasing to the eyes. Upon entering the shop, a very courteous and friendly shop assistant immediately greets me in both Turkish and English, and offered me several pieces of pistachio Turkish delight on a tray to sample.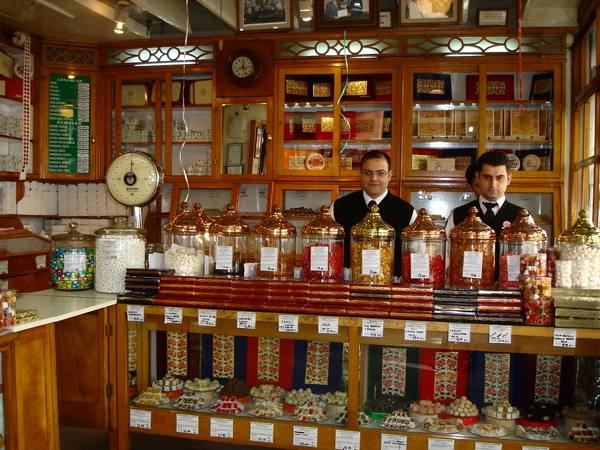 A close-up view of the mouth-watering sweet meats (my favourite is the pistachio Turkish delight coated with chocolate) - Yammy!!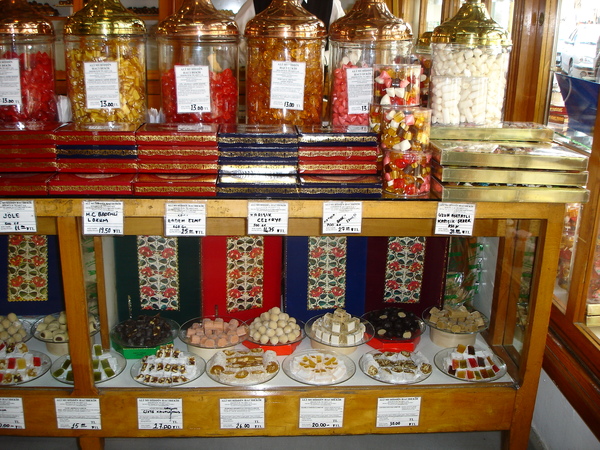 Traditional sales counter with boxes of packaged Turkish delights. One can choose to buy one of those pre-packaged boxes or buy loose Turkish delights by the kilo. The advantage of buying loose Turkish delights is you can pick and mix the flavours you prefer.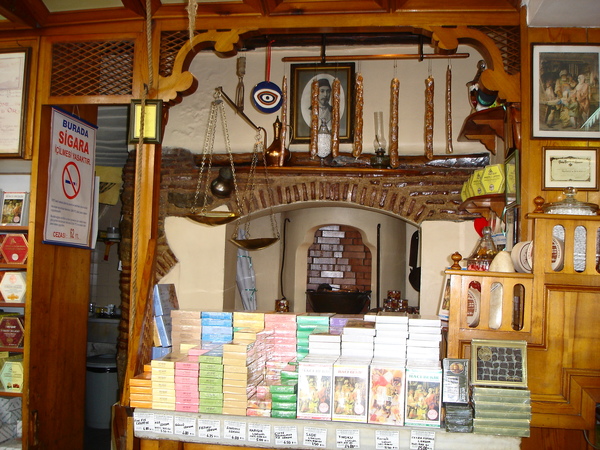 In addition to Turkish delights, Haci Bekir also produces conventional chocolates, hard candies, cake loaf and other sweets.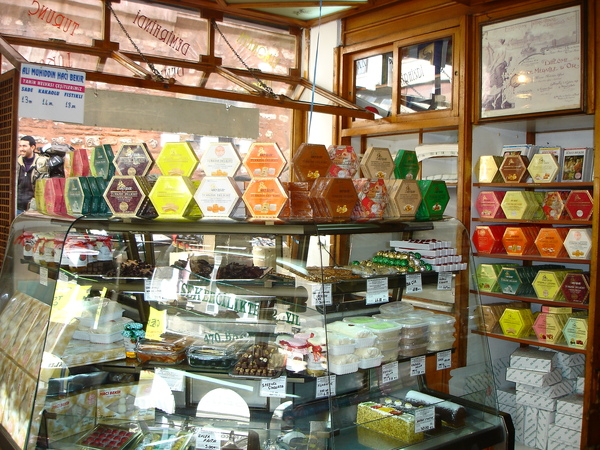 Behind this somewhat modest shopfront, one finds some really delicious Turkish delights. Most important of all, this place has lots of tradition and the atmosphere is genuinely authentic. For those interested in Istanbul's culinary past, a visit to this place is a must.

Copyrights 2009. All text and photos by YC Cheng. All Rights Reserved.