For those who have never seen the real thing before, Black Forest cake is just a piece of cake with lots of chocolate flakes all over, decorated on the top with a piece of cherry taken from a can. No matter where I go - the US, Asia, or Africa - this over-simplified version seems to be everybody's answer to what constitutes a 'Black Forest cake'.
As a result, it is now absolutely impossible to have a piece of authentic, original Black Forest cake, unless you are at one of the Black Forest towns, of course - but even then, you never know if you are getting the real deal. Also, don't think that you will be able to enjoy a real piece of Schwarzwalderkirschtorte anywhere in Germany - because most German chefs do not know how to make a good Black Forest cake.
To make a good piece of Black Forest cake, you need to know how a good piece should look and taste like. I have been trying out Black Forest cakes in the past 15 years all over the world, and I can honestly say, the best ones are made by traditional cake masters in the city of Freiburg and nearby Black Forest spa towns (such as Staufen). The further away from Freiburg and the Black Forest, the worse the quality of the cakes become, so beware: this is how a real perfect Black Forest cake should look like: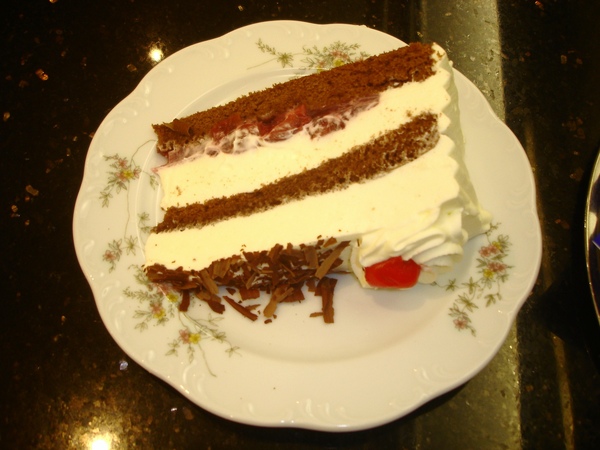 The following qualities are essential for a good piece of Black Forest cake:
A) Cream layers made from fresh Black Forest dairy creams and a generous dose of the famous cherry liquor - the cream should have a firm texture yet melts immediately in the mouth

B) The chocolate layers must be soft yet fresh and not overbaked (otherwise it would give a bitter taste in the mouth and the texture would be too hard)
C) The cherry must be freshly cherries marinated in pure Black Forest cherry liquor, not some thousand-year-old cherries steeped in red colourings and canned in some unrecognisable chemicals. The freshness of the cherry is very importance, because it makes a hell of the difference in terms of taste and the way it interacts with the rest of the cake.
D) Only 100% Black Forest cherry liquor (Schwarzwalder Kirschwasser) could be used when mixing up the cream and the chocolate layers. This is what makes this piece of cake sooooooo HOLY.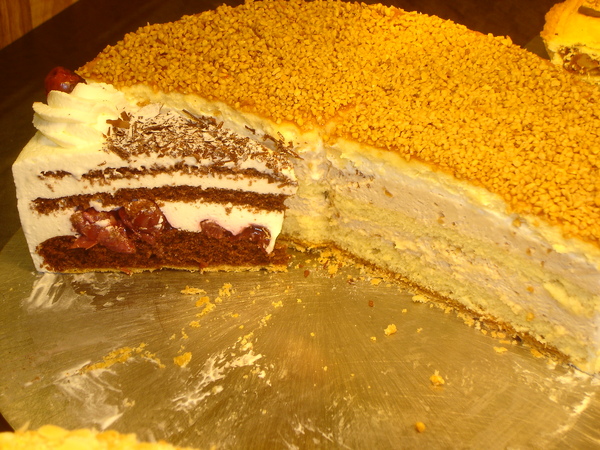 See that piece of cake on the left? That's how a real 'Black Forest Cake' should look like. This photo is taken at my favourite cake shop in Germany. The cafe - 'Rathaus Cafe' in Staufen (as well as its sister cafe , 'Cafe Schmidt' in Freiburg) produces by hand possibly the best Black Forest cakes you can get on earth. Everytime I visit Freiburg or Staufen, the first thing I do after getting off the train is to get a piece of this heavenly cake at their cafes and forget about the calories count...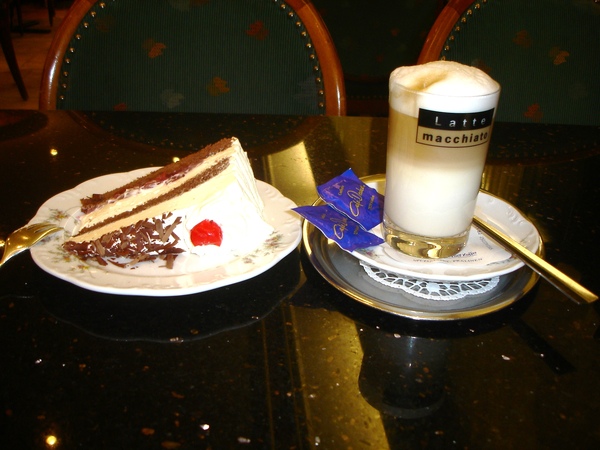 Black Forest cakes go well with coffee, or a cup of strong English Ceylon/ Irish breakfast tea.
99.99999% of the so-called 'Black Forest cakes' I have eated outside Freiburg and the environs are fakes, because they have never used one single drop of Black Forest cherry liquor in their ingredients. I have absolutely no idea how these cakes came to be called 'Black Forest cakes'. How can it be Black Forest cakes when this most important of all ingredients is missing? Without the cherry liquor, the so-called Black Forest cakes so commonly seen in most cake shops in the US and Asia are just nothing but cheap pretenders.
Cafes most recommended (I have been eating their Black Forest cakes for more than 15 years and the quality has been consistent):
1) Cafe Schmidt (in business since 1912): one of the most well-known cafes and bakeries in southern Germany.
- Bertoldstrasse 19 a, 79098 im Breisgau Tel: (0761) 3 69 67
2) Rathaus Cafe, Staufen: the sister-cafe of Cafe Schmidt in Freiburg. Excellent quality cakes and a good place to look at people and to be looked at. Located right at the main town square of the picturesque medieval Black Forest town of Staufen.
- Hauptstrasse 51, 79219 Staufen Tel: (07633) 924744