土耳其到希臘:歐亞之間只隔了區區的幾公里
Where on earth is the island of Kastelorizo? Most people have never heard of this place before. It is about 100km northeast of Rhodes and is part of the Greek Dodecanese Islands. In addition, Kastelorizo is also credited with being the eastern-most island in the whole of Greece.
Given its far-flung location (sometimes it does not even feature in some maps of Greece because it is just too far away) there are only 2 or 3 regular ferry services every week from Rhodes Town to the tiny rocky island. The journey takes about 2.5 hours and they bring essential supplies to the some 200-400 inhabitants who live all year round on Kastelorizo. In the summer months, several excursion boats offer daily trips from Rhodes Town to Kastelorizo.

Although politically part of Greece and the European Union, Kastelorizo is just 2km off the southern coast of Turkey. From Kas, the boat ride across the Aegean to Kastelorizo takes barely 30 minutes on a traditional gulet or caique. Every Friday, most of the inhabitants of Kastelorizo would travel by boat over to Kas and do their shoppings in Turkey. On the return journey the small boat is filled with all kinds of merchandise, even furnitures. Given the distance between Kastelorizo and Rhodes, it is much cheaper for the locals to purchase consumer goods and foodstuffs in Kas then going all the way to Rhodes.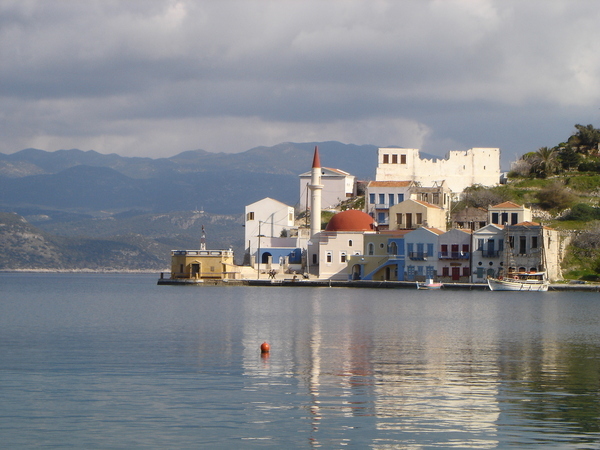 Kastelorizo - Harbour Kastelorizo 港口景色
Until recently, Kastelorizo was not an official point of entry into Greece, which means visitors from Kas were not allowed to travel onward to Rhodes and other parts of Greece from Kastelorizo. However, when we visited the island in February 2008, to our surprise, the Greek immigration officials actually stamped our passports – proper Schengen entry and exit stamps – and this means that technically speaking, it is now not against Greek or EU immigration laws if visitors choose to proceed onward by ferry or flight to Rhodes.
Despite this, most people travel to Kastelorizo for just a few hours on a day-trip from Kas. In the summer, it is a nice excursion to set sail on one of the many boats that depart the harbour of Kas in the morning, spend a few hours in the picturesque village of Kastelorizo before returning to Kas in the afternoon. In the winter, when most hotels are closed or operating below capacity, only one boat departs for Kastelorizo Monday to Friday at 1030 – and its passengers are usually foreign residents of Turkey who are on a so-called 'visa-run'. Thus, the boat service to Kastelorizo in winter is known by locals as the 'visa-run' boat.
'Visa-run' boats come into existence because it is much cheaper for foreigners residing in Turkey on a long-term basis to exit the country at regular intervals and obtain a new entry visa upon their return to Turkey on the same day, than to have to endure the ordeal of paying up to several hundred euro and queuing up at some district police offices for ages in order to apply for a proper residence permit.
The procedure of a 'visa-run' itself is an epitome of so many things about life in Turkey: first you need to contact the Captain who operates the 'visa-run' boat - the boat we travelled with from Kas to Kastelorizo in winter is operated by Captain Selo, who is the only person to operate visa-run trips all year round, including the winter months. He also advertises on the internet and apparently he has three boats - Altug A, B, and C.

To get a seat on Captain Selo's boat, first you need to call him on his mobile ( 05376745572 from within Turkey, + 90 5376745572 from outside Turkey, make a reservation for a place on his boat (because he only does visa-runs on weekdays, and on some days the boat could be fully booked due to overwhelming demand), appear at the harbour of Kas at least half an hour before departure to hand in your passports for registration. By the way he speaks excellent English so communication won't be a problem.

Captain Selo sets up a tent right in front of his boat (the name of which is 'Altug') for the purpose of welcoming his customers and preparing all paperworks prior to each sailing. First he will greet you at his seat, then asks for your passport. Personal details will be entered on official logs and registration forms to be submitted to the maritime police and immigration authorities both in Kas and on Kastelorizo. After that, you are kindly requested to spend half an hour wandering around Kas.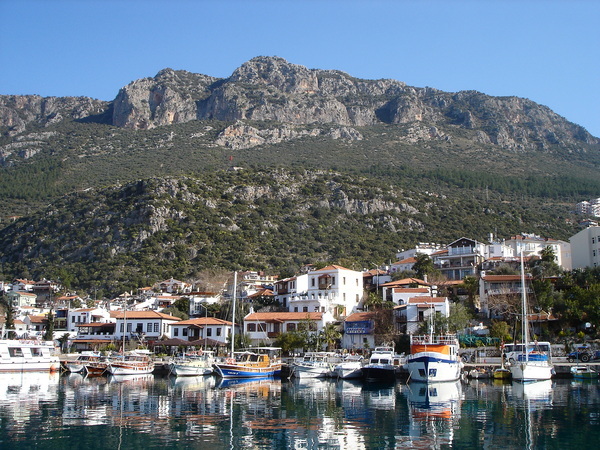 Kas Harbour with Taurus Mountains in the Background - Kas 港口景色 - 壯觀的Taurus 山脈
When all paperworks are done, one of the local maritime police officers and a customs official will arrive by car and the fun part begins – there being no proper customs building in the harbour, the exit and entry formalities are actually being carried out on board the boat. Firstly, all passengers are invited to board, after which the police officer will appear with a stack of passports in his hand. One by one he examines the passport, calls out the name of each passenger to verify their identity and to make sure they are really on the boat, then hands the documents over to the Captain.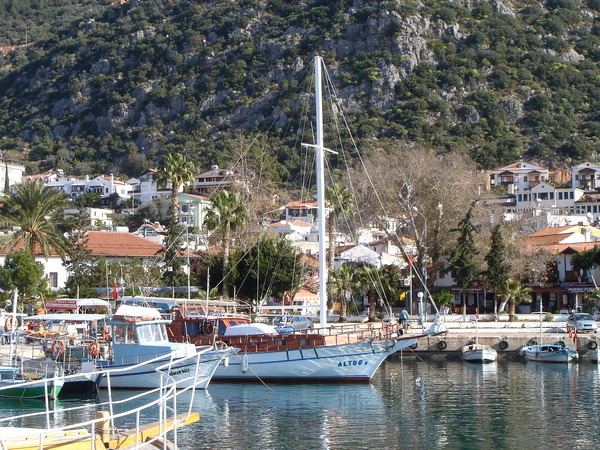 The boat 'Altug', seen in the middle with a white mast, specialises on 'visa-run' between Kas and Kastelorizo. For price and reservation, contact Captain Selo on his mobile: 05376745572 (from within Turkey), + 90 5376745572 (from outside Turkey)

It is the first time I have seen customs and immigration/exit formalities being conducted in such casual way. The guy who checked our passports that day smiled all the time and was extremely friendly. He is probably so used to foreigners getting out and in of the country on a regular basis to obtain a new entry visa - an easy way of legally residing in Turkey - that he did not even bother to ask any questions. Which is all the better. Of all the Turkish sea ports I had been to, this is the most hassle-free encounter.
Once everybody's identity and physical presence had been verified, it was time to set sail. The sea was calm, with soft breeze and warm sunshine and blue sky. It was a great day to go on a visa-run excursion.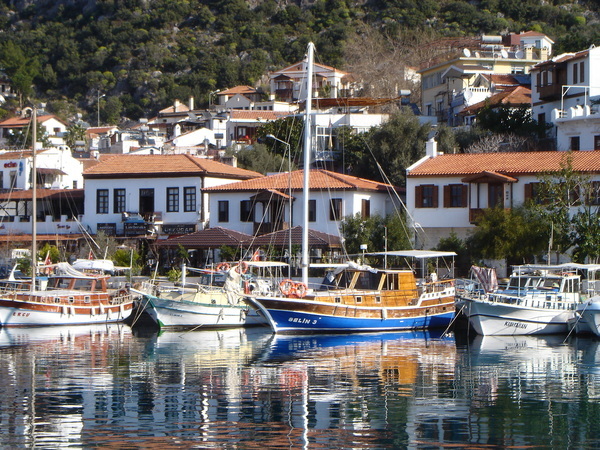 Kas Harbor lined with Ottoman Houses - Kas 港口土耳其奧圖曼式建築
The short ride to Kastelorizo offers us the chance to admire some splendid scenery: rising cliffs, mountains covered in part in clouds, beautiful sea dotted with numerous little rocky islets. I wonder if Greece and Turkey also fought over the sovereignty of these rocks in the sea? As the boat crossed into Greek territorial waters, one of the crew raised a small Greek flag on the ship's mast.
Kastelorizo's harbour is fairly small in size but very picturesque, to say the least. Rows of colourful double-storey houses lined the harbour, each and every of them very well kept.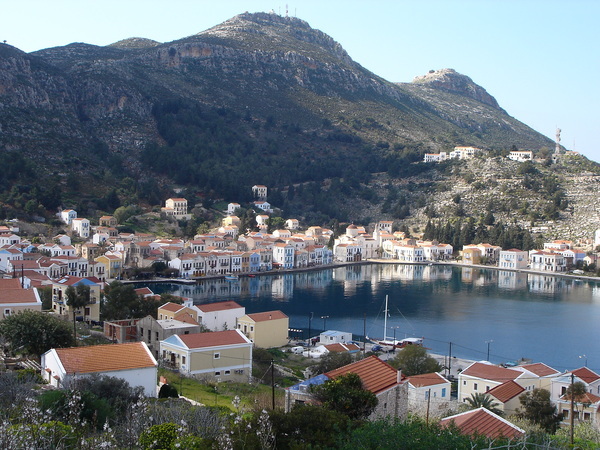 A Harbour with a View - Kastelorizo Harbour 從高處看Kastelorizo港口
It is said that in the summer, the number of inhabitants on the island swell dramatically to some 2000 – 3000, most of which are rich holiday-home owners from Athens or ethnic Greeks who had emigrated to the US or Australia, who return to visit their relatives on the island. On this particular day in February, with most of the shops and restaurants closed, it is difficult to imagine how life is like when the sun goes down - because it was the middle of the day, yet the whole town looks as if the entire population of the island had decided to emigrate altogether. It is more than the normal cliché of a 'sleepy little town' – it looks more like a town in comatose. Only two groceries shops are open for business, plus a few cafes and bars. To be precise, 99% of restaurants and cafes will not reopen until Easter. We were glad we did not choose to stay overnight on the island. Otherwise, we would have had real problems trying to find a place to have dinner.
It was about 11am when we arrived. The boat would depart at 1.30pm, because most passengers have probably been to Kastelorizo so many times, all they want is to buy some pork products, have a drink, then return to Kas as soon as possible – of course not forgetting to bag a few bottles of duty-free alcoholic drinks on the way out. (Alcohol is extremely expensive in Turkey). After all, they probably know the whole of Kastelorizo by now. We were the only people on this boat who actually showed some interest in walking around this little settlement.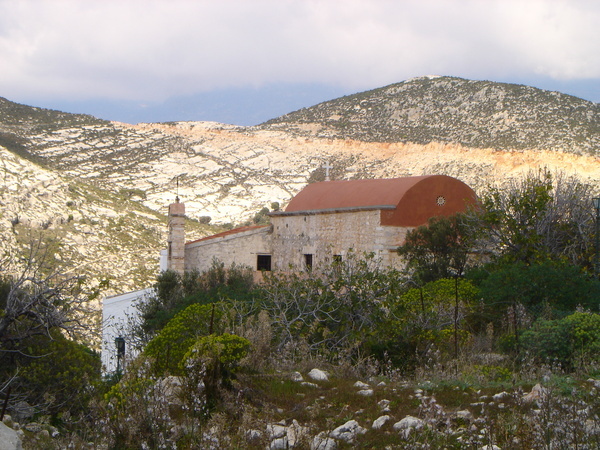 A Greek Orthodox Church on Kastelorizo - 希臘東方正教教堂
The ruins of a castle perched atop the hills overlooking the picturesque little harbour. We were told that the other side of the hills are military areas and are out of bound to ordinary folks. The hike up the hill offers fabulous views of the bay, the harbor, the little uninhabited islets between Turkey and Greece. On one of them is what appears like the ruins of several farmhouses.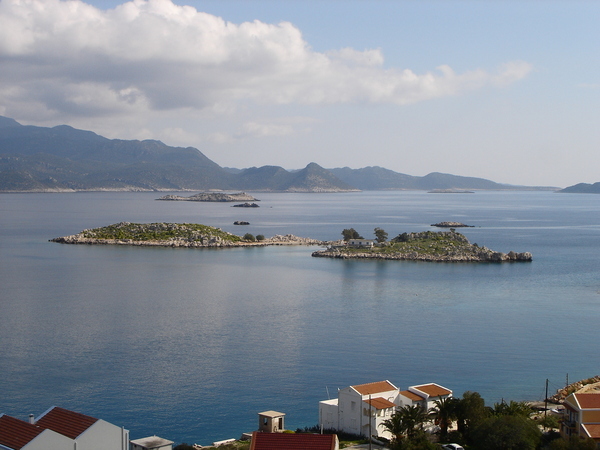 The View of Both Greece and Turkey - 前面的幾個小島屬於希臘,背景的海岸就已經是土耳其領土
Somewhere up on the hill side is a Lycian style rock tomb, overlooking the Aegean. Normally graveyards give one an eerie feeling, but this kind of rock tombs, carved onto face of the cliff and with an arcade that looks more like a temple than a grave, makes one stop to take some photos. It was empty inside – with shelf space enough for perhaps 4 – and it is kind of weird to imagine that several thousands years ago, this was a burial chamber.
One thing that strikes me about Kastelorizo is the complete absence of young people. All residents we had seen so far on the streets of the settlement were old pensioners or young children. There is a primary school on the island - anyone who wants to attend secondary schools will have to go to Rhodes.
Kastelorizo is the island on which the film 'Mediterrano' was shot. It is an Italian Oscar award-winning production about the story of a group of Italian soldiers stranded on a little Greek island during the Second World War, who found love, freedom and escape from the brutality of war.
The Dodecanese Islands have had a long and troublesome past. Given their strategic positions in the eastern Mediterranean, the islands were coveted by all major powers throughout the centuries. During the Ottoman rules, the islands enjoyed special autonomous status and tax concessions. During the Greek War of Independence, in spite of the fact that the majority of the Dodecanese islands were populated by Greeks (only Rhodes and Kos had had Turkish communities), they did not take side against the Ottomans. Instead they chose to remain under Ottoman rule and retain their special privileges.
During World War One, the islands were occupied by the French, from which some of the most important military campaigns against the Ottoman Empire were launched. Following the withdrawal of the French came the Italians, who had wanted to use the islands as their base to control the sea route to Libya and Northern Africa. In the aftermath of World War One, the Treaty of Lausanne, and the outbreak of Greco-Turkish War in Anatolia, the Greek government in Athens and the Italians had secretly agreed to the partition of western Anatolia (including present-day Antalya) in the event of a Greek victory. However, the plan fell through due to the defeat of the Greek army by Mustafa Kemel's forces and the subsequent formation of modern-day Turkish Republic.
During the Second World War, the Dodecanese were under Italian occupation once more and this lasted until 1947, when the islands joined the Union of Greece.
By 12 o'clock, it seems most of our fellow passengers had already done their shopping and were simply waiting for the boat to depart. It took us less than an hour to walk around the whole town, including the smaller bay on the other side of the cliff. We had wanted to have a bite and perhaps a cup of coffee somewhere near the harbour, but none of the taverns was open for business.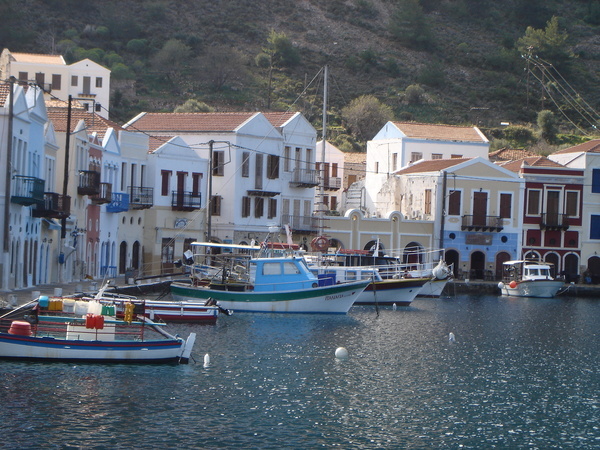 Fishing Boats in the Harbour - 淡季時刻, Kastelorizo 港口的漁船靜靜地停在港內
Shortly after 1pm, however, something strange happened. All of sudden, the pier was full of people and cars, and the whole town sprung into life. What's going on? Then we saw a large car-ferry approaching and it dawned on us: the ferry from/to Rhodes had arrived.
The journey back to Kas was uneventful. Thanks to the arrival of the big car ferry, our boat had to leave earlier because we had taken their docking position. This unexpected early departure probably serves most of the passengers just fine. Once in Kas, we were kindly asked to wait in one of the cafes in the harbour as the Captain and the police officer processed our passport. When all bureaucratic formalities were done, one by one the Captain's assistant came round the cafes to return the passport to each passenger and collect the fare for the visa-run: 35 YTL. Considering a one-way flight to Istanbul (in order to catch the international flight out of Turkey) would have been more than 80 YTL and deprive us of the experience of observing at close range how such visa excursions are organised. 35YTL is a good bargain. And the pretty scenery of Kastelorizo is certainly worth our eight hour bus ride via Mugla and Fethiye.
Some useful information:
1. How to get to Kas:
BY AIR:
Nearest airport is Antalya or Dalaman. In the summer, various European airlines offer daily or twice-weekly flights from major European cities to Antalya International Airport.
From Istanbul, Turkish Airlines, Atlas Jet and Onur Air offer several daily non-stop flights from Istanbul-Ataturk Airport (IST) to Antalya. Pegasus Airlines also offer direct flight from Istanbul-Sabiha Gokcen Airport to Antalya.
From Antalya airport, take Havas Bus (departure in front of Domestic Arrival Hall)to Antalya Bus Station (Otogar). (2007 Price: 8.5YTL) Bati Antalya Turizm runs Antalya – Kas buses from 07:00 – 16:30. Journey time is about 4 hours.
BY BUS: From Antalya: see above
From Fethiye: Bati Antalya operates buses from Fethiye – Kas every 30 minutes, between 07:30 – 16:30. Last bus from Fethiye – Kas departs at 18:30. 2008 Price: 10YTL. Journey time: 2 hours
BY BOAT: In the summer, every Monday and Friday, a Greek fishing boat will operate shopping trips to Kas for Greek villagers living on Kastelorizo. The price is able 15 euro return per person.
2. How to get to Kastelorizo
BY AIR: In summer, Olympic Airways operates 5-6 flights every week to Kastelorizo via Rhodes. Flight time Athens-Rhodes: 1 hour, Rhodes – Kastelorizo: 30 minutes
BY BOAT: Dodekanisos Seaways operates year-round once-a-week high-speed ferry every Monday from Rhodes to Kastelorizo.
In the summer, private excursion boats also operate daily-boat tours from Rhodes to Kastelorizo.
The only Greek port serving Kastelorizo is Rhodes. Kas is the only international destination serving Kastelorizo.
Copyrights 2008. All texts and photos by YC Cheng. All Rights Reserved. Alle Rechte Vorbehalten.