When we planned our trip to Spain, my father said we should rent a holiday apartment at a place which fulfills all of the following requirements:
1. The town or village in which the apartment is located must be 'old' (i.e. with lots of history)
2. The town or village concerned must consist of houses and buildings made of stone (i.e. no concrete or otherwise man-made building materials)
3. The town or village which fulfills the above conditions must also have beautiful sceneries at its door steps, with plenty of nature within walking distance
4. The said town of village should have good vineyards/decent red wines/good restaurants within an hours' drive with distinctive regional character

5. Whichever town or village so lucky to be chosen by us as our destination of choice must be off the beaten track, i.e. neither rawdy tourists running around the streets half-naked nor noisy backpackers
To be honest, I am not sure if such a place ever exists. Out of desperation, I rang up a friend for help. He is a native of Madrid, but knows other regions in Spain very well. I told him about our requirements and he came up with a few suggestions, one of which is Ezcaray, a picturesque little mountain village in La Rioja. As I have always wanted to visit the world-renown wine growing region of La Rioja and sample its legendary tempranillo reds, I thought we might as well spend a week there, just an hour's drive from the heart of La Rioja's viticulture enterprise.
Before then I had never heard of Ezcaray; after doing some research I realised that it is actually a beloved weekend destination for well-to-do Spaniards from Madrid and Barcelona. Anyway, once I set about looking for holiday rentals in Ezcaray, I know we have found the town/village that meet all our requirements: when I wrote to enquire about the availability of holiday apartments, our potential landlord replied that 'he has never had enquiries from Germany before'. Tell you what - if a village has never been visited by German tourists before, you can rest assured that the village is absolutely 500% off the beaten track. (For it is a well-known fact that German tourists are to be seen even in the most remote corners on Earth)
So I booked the 2-bedroom apartment for one week and set about preparing for our trip to this mysterious little village.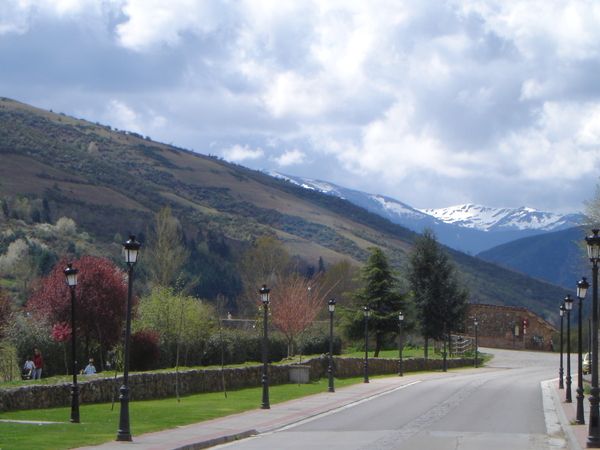 It was early April and the hilltops surrounding Ezcaray are still covered by snow.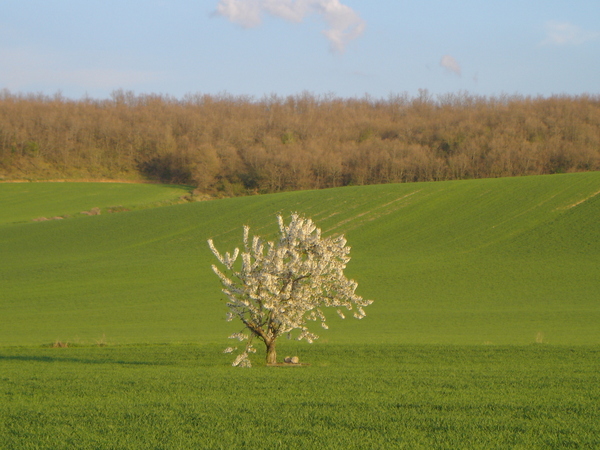 As soon as we drove up the little country road that would lead us ultimately to Ezcaray, my parents became enamored with the scenic countryside along the way. It was early spring and the air was still a little bit chilly, but the sun was warm and the blossom so picturesque that we were convinved the view would only get better.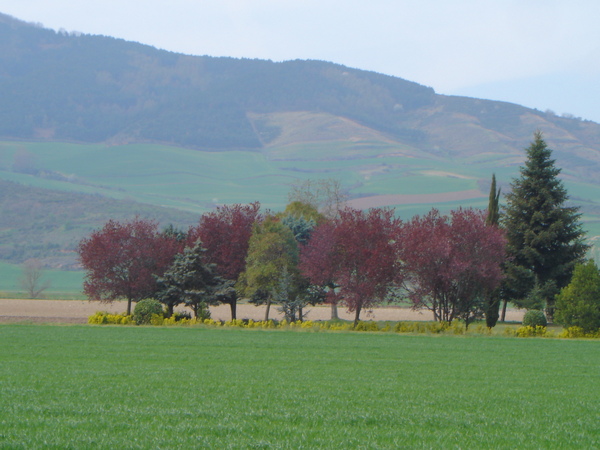 Ezcaray is a popular ski destination for local Spaniards. There is a well-equipped ski station right on top of Valdezcaray., 14km from Ezcaray. The scenic drive up the hill towards the mountain top ski station passes through picturesque little villages and hamlets, and you should watch out for cows that cross the road to graze on the green pastures on both side of the hair-pin bend.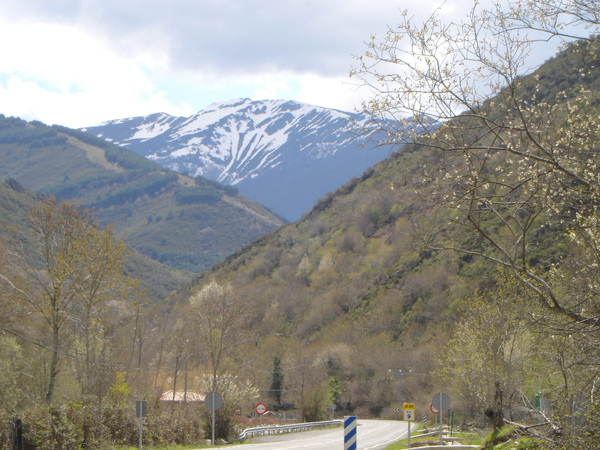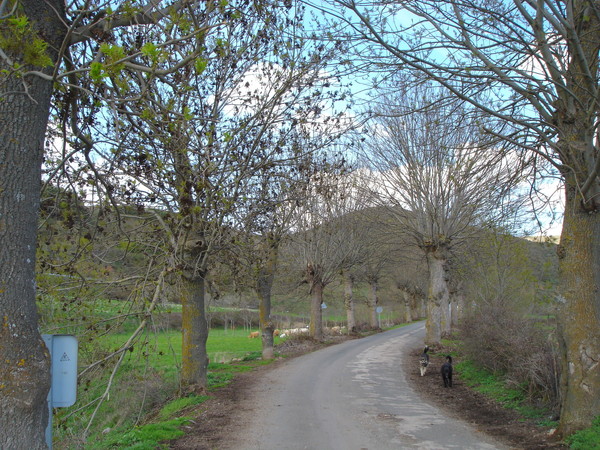 The countryside surrounding Ezcaray is full of quiet little country roads such as this one above. On the weekends, however, you would see a lot of holiday traffics on these roads, and the cobblestone streets of Ezcaray were parked with expensive Porsches, Ferraris and Jaguars. To our delight, Ezcaray is a very pretty little village full of centuries-old stone houses, heritage buildings and some very decent restaurants.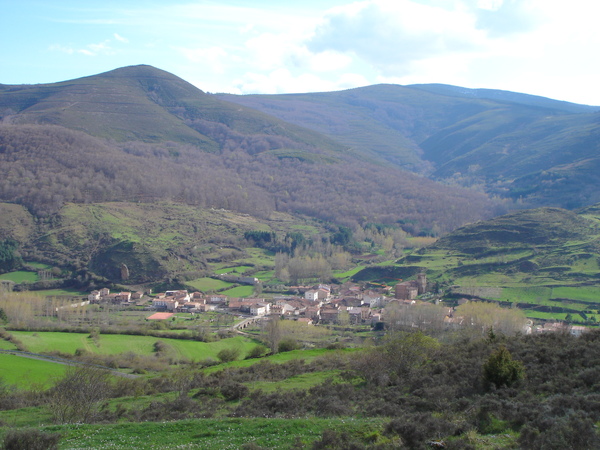 The view of the village and the surrounding valley from the drive up to the top of Valdezcaray.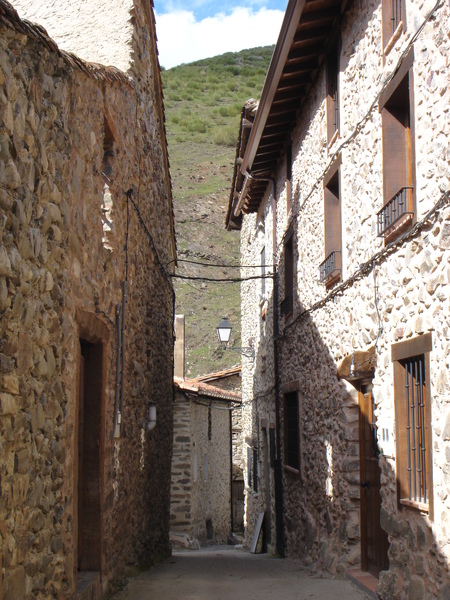 Traditional stone houses in the valley of Rio Oja.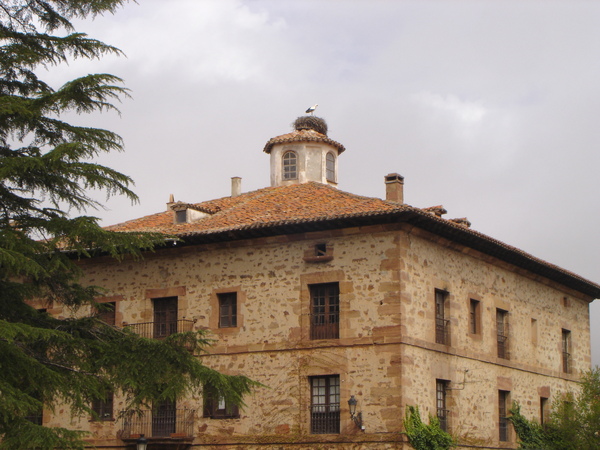 Original stone houses dated from the 18th century in the village centre of Ezcaray. On top of the house, a stork has decided it is the ideal place to set up camp and raise her baby birds.
Copyrights 2009. All Rights Reserved. All photos and text by YC Cheng.