Although I am a fan of rail travel, I seldom travel around Turkey by train, because many of the places I wanted to visit cannot be reached by rail. Travelling by train in Turkey has something romantic and sentimental about it: it brings one back to the golden age of epic train journeys immortalised by films and novels, when the legendary Orient Express was the epitome of travelling in style.

Which is why I decided to take the opportunity to travel with the overnight sleeper 'Curukova Mavi Espress' from Ankara to Adana. Initially I had wanted to take the overnight sleeper train from Istanbul's Haydarpasa Station all the way to Adana, but this train has been suspended until autumn 2009 due to engineering works on the rail tracks between Konya and Adana. So I had to choose between going by sleeper train from Istanbul to Konya, then change to a day-time train to Adana; or to go via Ankara.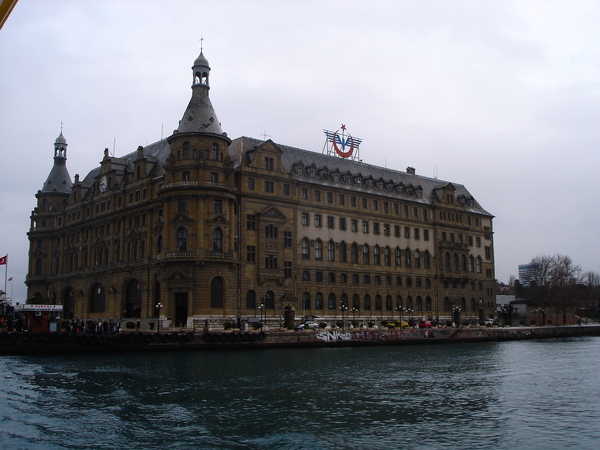 Haydarpasa Train Station, located on the Asian side of Istanbul, near Kadikoy. Haydarpasa Station also has its own IDO ferry terminal. There are regular ferries across the Bosphorous from Haydarpasa to Eminonu or Karakoy.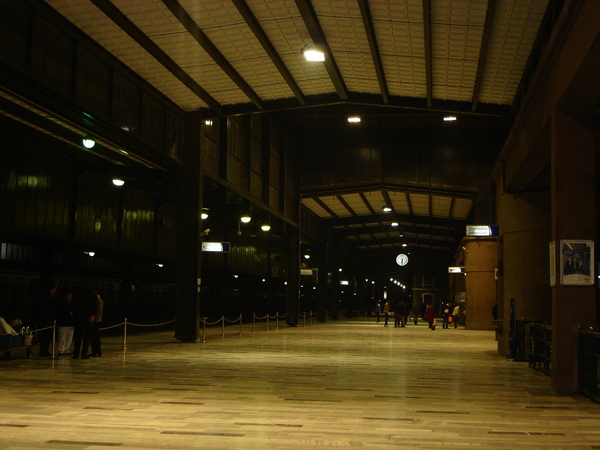 Ankara train station in a cold, snowy winter night.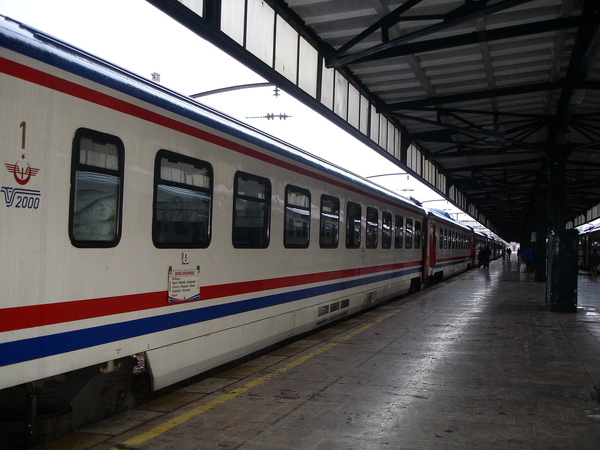 The new V2000 sleeper train at Istanbul's Haydarpasa Train Station.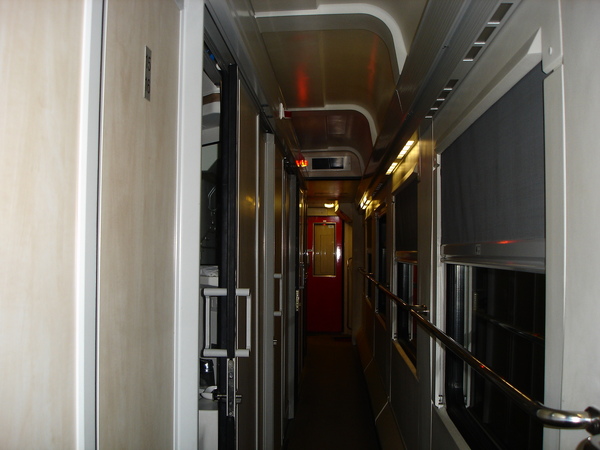 Inside the V2000 sleeper train: the corridor with compartments on the left side. There is a toilet at the front of the carriage, and a shower room at the back of the carriage.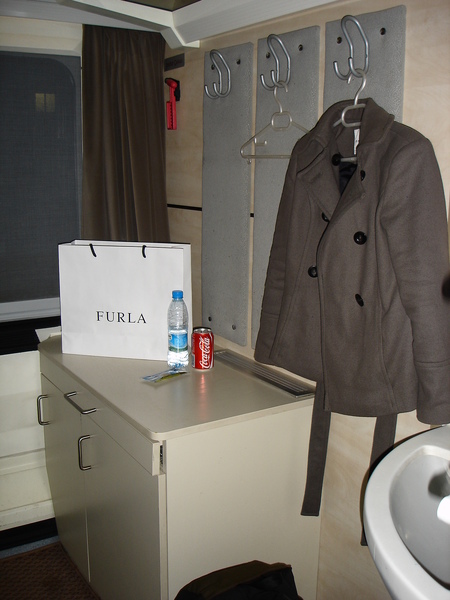 Inside the sleeper compartment: usually each compartment sleeps two, but you can also book the whole compartment for just your own use. The price of a single compartment from Ankara to Adana is 72YTL (as of Dec 2008).
The compartment is clean and comfortable, with air-conditioning/heating, lots of space of luggages, wash basin in the room, small fridge and cloth hangers.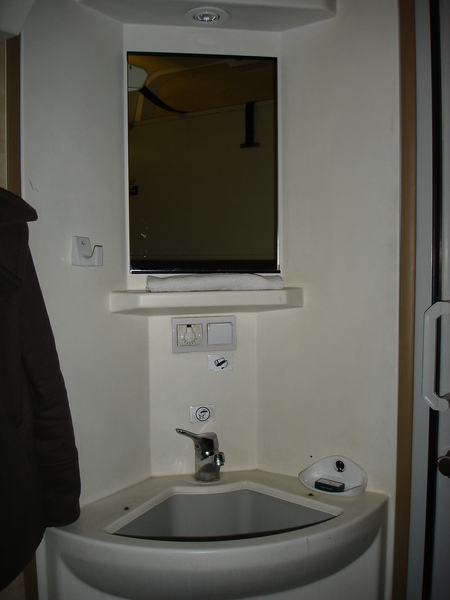 Normal seats during the day....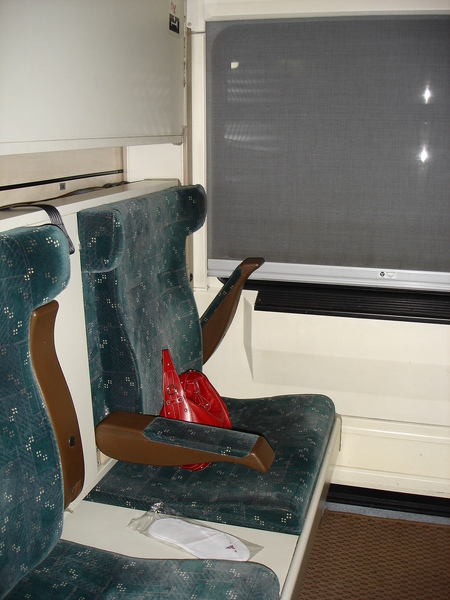 ..... converted into a bed in the evening.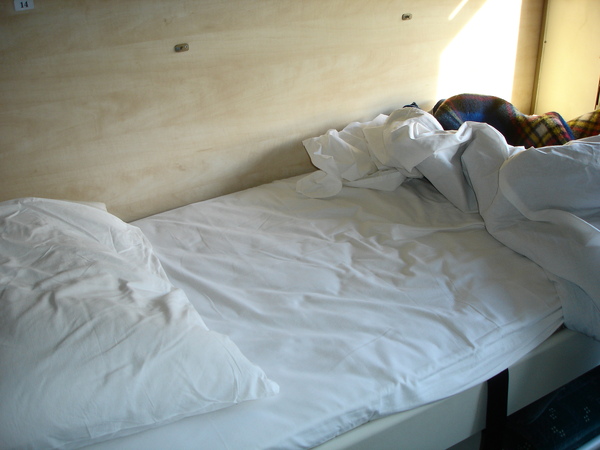 Upon arrival in Adana - the platform in Adana reminds me of some older train stations in southern Taiwan.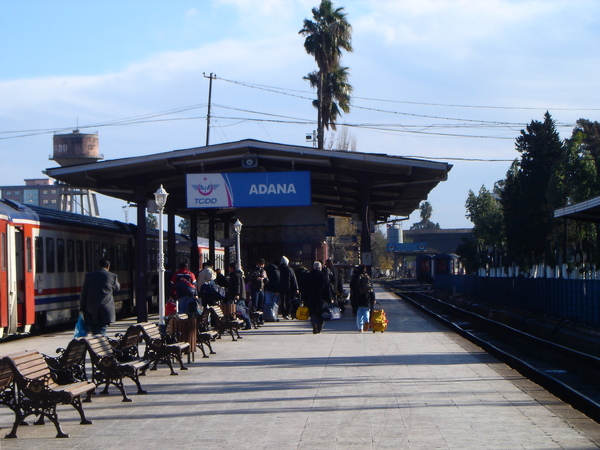 Adana's pretty main train station building. I enjoyed the overnight journey from Ankara to Adana very much - it was a very romantic experience to sit inside a warm compartment and watch the snow-covered Anatolian landscapes slowly passing by outside the window. Although the train arrived about an hour later than scheduled in Adana, I felt very refreshed after a good night's sleep in the compartment. If possible, an overnight train journey in Turkey is definitely something not to be missed.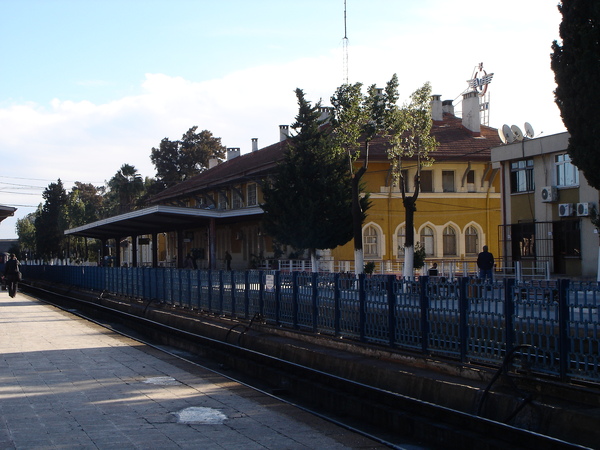 Copyrights 2009. All text and photos by YC Cheng. All Rights Reserved.