Kalymnos is much more beautiful than I thought. The visit to this island took place under unusual circumstances. I was on a catamaran from Rhodes to Patmos and was supposed to get off at Kos. However, about 10 minutes prior to arrival at Kos Town, suddenly I did not feel like getting off the boat. There was an urge to stay on and travel to another island, just to see how it was like. So I found the First Officer and ask him how much it would be if I continue my journey onwards till Kalymnos. All I need to pay was the fare difference - it was much cheaper than buying a new ticket at Kos.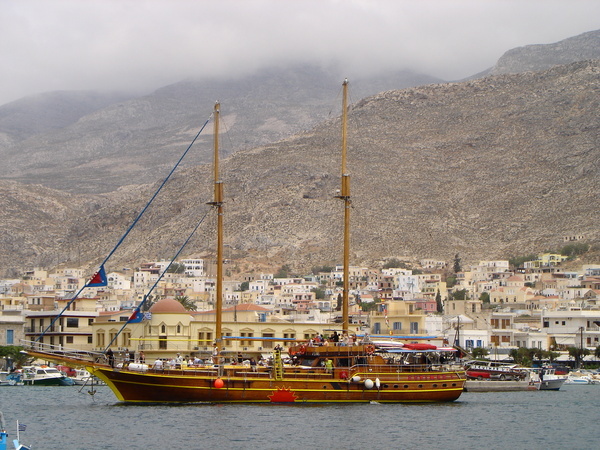 A Traditional Boat full of Day-trippers from Kos entering the Colourful Harbour of Kalymnos
Kalymnos is best known as the Sponge Diver's Island. Natual sponge were harvested by experienced divers in the seas around this island. Prior to the arrival of tourism in this particular part of Aegean, sponge diving was the most important economic activity. Even Bodrum, just one hour by boat from Kalymnos, was once an important sponge-diving centre. Nowadays, although income from tourists are much easier to earn than the back-breaking and dangerous job of sponge diving, Kalymnos still retains the tradition. There is a museum and heritage centre in the town of Pothia, the main city of Kalymnos, that commemorates the history of sponge-diving and its influence on the daily life of this island. It was said that sponge harvested from the area around Kalymnos have the best quality and usually fetch a hefty price in souvenir shops in Athens, Mykonos and other major tourist islands.
Unlike the nearby islands of Kos, Kalymnos did not choose to embrace tourism, and is therefore not well known outside Greece. The island remains an island for the locals - it has little to offer in terms of luxury hotels or spectacular castles, but its inhabitants are geniunely friendly, cheerful and there is no slightest touch of pretension whatsoever. Everything about Kalymnos is so authentic and natural, it offers a refreshing atmosphere after the hustles of Rhodes.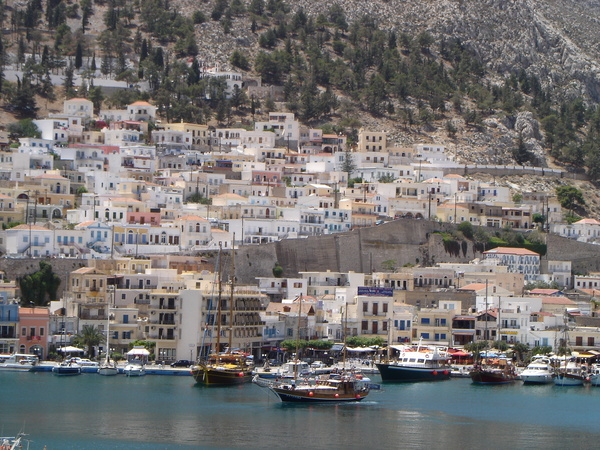 The View of Pothia's Harbour
Because the island is not geared towards tourism, there are only a few hotels available in the town of Pothia. I managed to find a decent room at a small family hotel right at the harbour, run by an old couple. The room has two balconies and offers a good view of the pretty harbour. The couple took great interest in my place of origins, as they had never had any visitors from Asia before. That's hardly surprising, given that very few people outside of Greece has ever heard of Kalymnos. The funny thing is, when I told them I am from Taiwan, the old man immediately nods his head in approval and said 'Formosa', and started talking about the history of the Civil War in China, Cold War politics, communism vs. democracy, etc. I was quite amazed by the fact that he actually knows what Formosa is, because even Taiwanese themselves don't know much about their own history.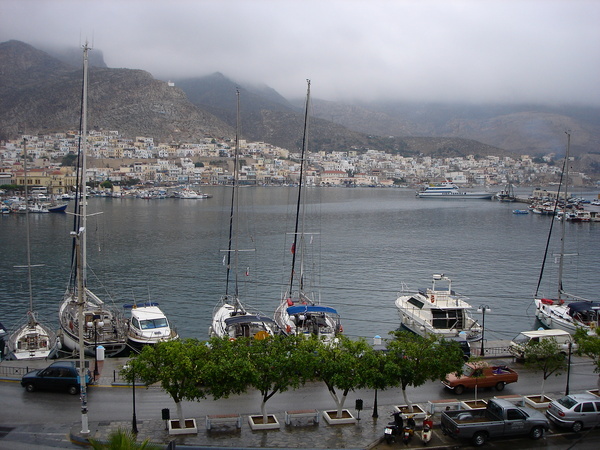 The View of Pothia Harbour from the Balcony of My Hotel Room
Too bad the weather was not too good and I could not sit on my balcony and enjoy this view for long; it was raining and the air was crisp and cool. Still, there was a transquil beauty despite the rain and the mist, and I really enjoy this peaceful atmosphere. After 3 days rushing around the island of Rhodes, it was time to forget about going from one 'must-see' attraction to another, to sit back and just unwind.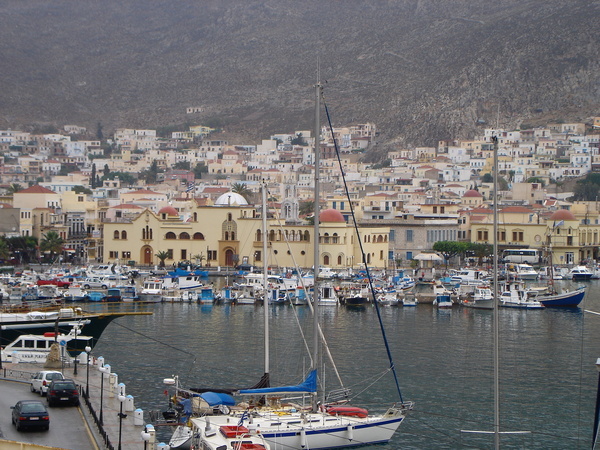 Another photo taken from my hotel room's balcony - the room has no just one, but two balconies!!!
After I put my bag down in the hotel room, it was time to go for a walk. First thing to do in the afternoon, of course, was to find a place to have a cup of illy Latte Macchiato. There are many nice cafes along the harbour front and all of them seem good - I had had a hard time trying to decide where I should have my coffee, especially when many of them serve illy coffee. In the end, I settled for this one, because it offers a good view of life around the harbour.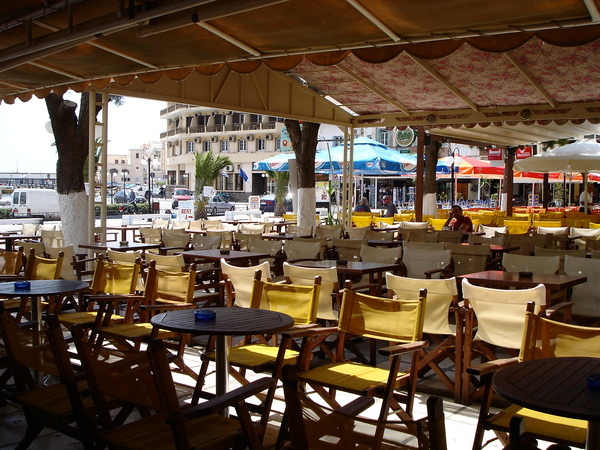 The owner of this cafe is a former seaman, who worked on a container ship for years. After he has saved enough money, he returned to his home island of Kalymnos and open this cafe. Interesting enough, while he was still a seaman, he had been to Taiwan several times on board the container ship, and he recalled with great enthusiasm the time he spent in port cities like Kaohsiung and Keelung, the food, fruits and people in Taiwan, etc. At the end, when I was about to pay for my coffee, he refused to take money from me and insist on inviting me for the coffee. That was really nice of him
Just like the old couple who ran the small hotel, the owner of the cafe was very surprised that somebody from Asia (i.e. me) actually knows about Kalymnos and wants to visit this island, He was very pleased when I told him I liked the peaceful atmosphere of this island a lot.
(I must say I am quite impressed by Greek seamen's knowledge of geography. Usually European don't have much of a clue about countries in the Far East, but almost everywhere I have been to in Greece, if someone has worked as seaman on a container ship, he knows for sure where Taiwan is.)
As I sat sipping my Latte Macchiato, the rain stopped and blue sky began to emerge.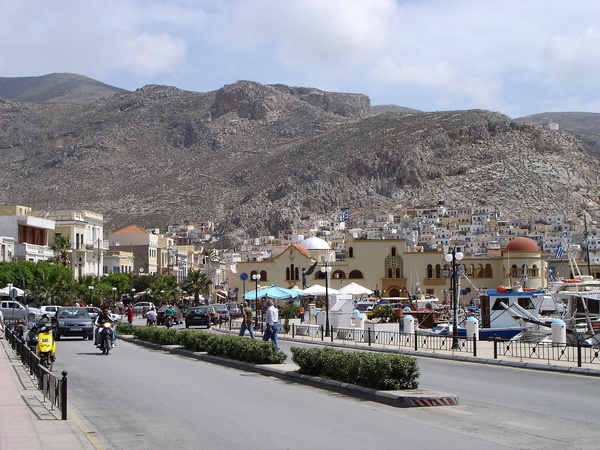 The main street of Pothia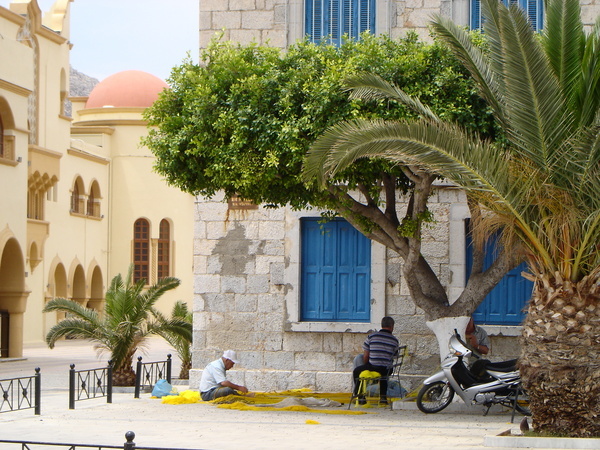 Local fishermen repairing their nets in preparation for next catch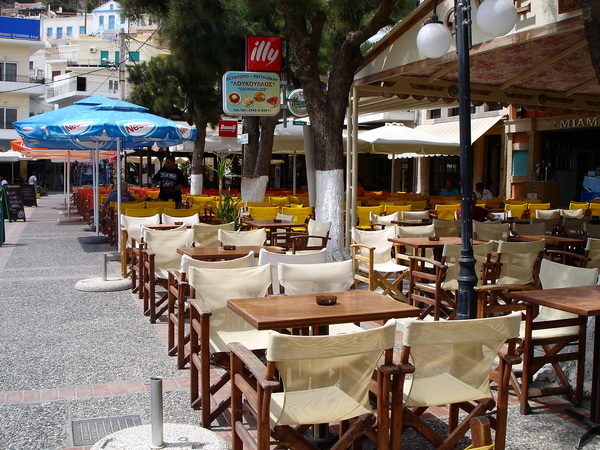 Frontal View of My illy Cafe in Pothia, Kalymnos, in day-time
Too bad my digital camera is not well equipped to take photos in the night, because after 9pm, all the young people in Pothia gather on the town square and drink and eat and talk with their friends. The atmosphere was so lively, in stark contrast to the quietness during the day. Fashionably-dressed young men hang around with pretty girls with olive-brown complexions; they talk and cheer and laugh and the whole town came into life. The air was full of truly authentic romance. It was not the usual busy town square populated by tourists. Something stirred in me. The atmosphere reminds me of those long, warm and unforgetable evenings on the little square of a small seaside village on the island of Corfu, when I sat on the pier and watch the villagers pass by.
Copyrights 2008, all text and photos by YC Cheng. All Rights Reserved.