A day-trip in the warm winter sun to the island of Kekova and Simena is like a dream come true... there is everything I asked for in life: Turkaz sea, beautiful scenery, peace and quietness, photogenic villages, and lots of olive trees (plus what probably is the most idyllic cemetery in the world....)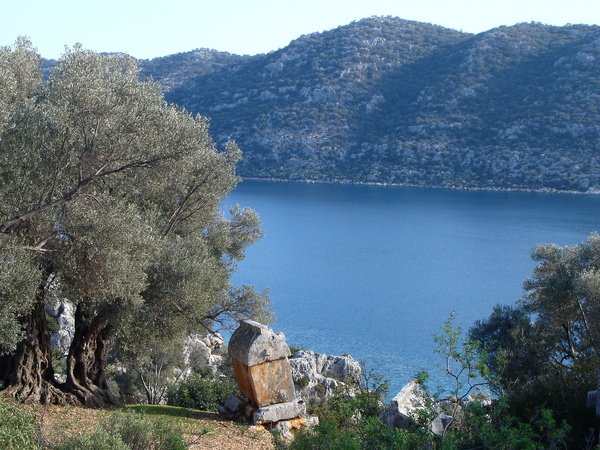 .... and the sight of a Lycian sarcophagus against such picturesque backdrop actually makes the view all the more interesting,

While hanging around the modern harbour of Andriake taking photos of the ancient ruins, I met a boat captain who was willing to take me out to Kekova and Simena the next day on a small private fishing boat for just 50YTL. Knowing that the price for each person in the summer months was about 30-50YTL on a crowded gulet boat from Kas, 50YTL for a full-day trip on a private rental basis with a private captain and the freedom to stop anywhere I like or visit anywhere I want does not sound too bad....
My private fishing boat trip started off from Cayagiz (modern Andriake) near Demre. The advantage of going to Kekova with a small fishing boat is that you can actually approach the sunken ruins off the shore of Kekova and observe them at close range.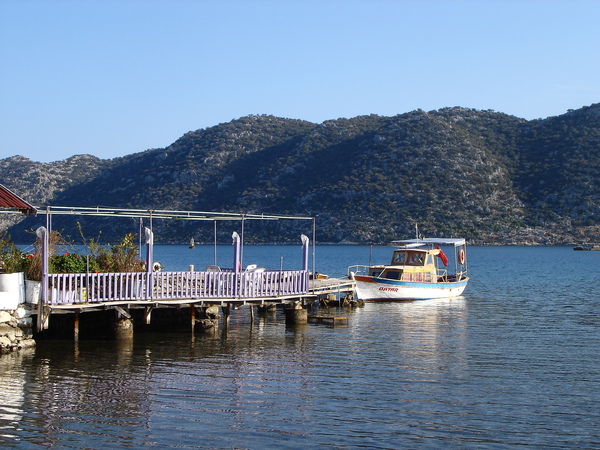 The pier at Simena. In the centre of the photo is the little fishing boat 'Bayar', with which I toured the Kekova and Simena.